VIDEO: Today's Meredith Vieira Grills Rod Blagojevich; He Says 'I Have Done Absolutely Nothing Wrong'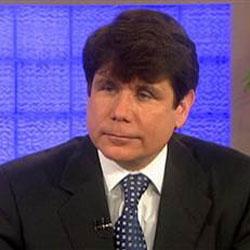 Former Illinois Governor Rod Blagojevich, in his first televised in-depth interview since he was found guilty on a charge of lying to federal agents this week (the jury was deadlocked on 23 other counts) told The Today Show's Meredith Vieira Friday that he's done nothing wrong and will not accept a plea deal in his ongoing legal case.
Watch the clip on RadarOnline.com
Vieira, who doggedly grilled the embattled politician throughout the interview, asked him, "So you take no responsibility then, governor, for anything that's happened to you?"
Article continues below advertisement
GUILTY: Former Illinois Governor Rod Blagojevich Convicted On Just 1 Count; Jury Hung On 23 Charges
Blagojevich, 53, responded, "I would say that looking back, if I could change some things... certain people that I put faith in and trusted, advisers and different people," adding that the government wasted millions  of dollars on his case, and still failed to prove any corruption.
"I'm absolutely very determined to seek vindication," Blagojevich said. "I have done absolutely nothing wrong. This is a persecution by a prosecutor who for six years tried to persecute me."
Blagojevich challenged the prosecutor to release every tape and every transcript connected to the accusations. He reiterated that he was engaging in "political horse-trading," just examining ideas and concepts related to the political spectrum.
Since his political career has stalled in light of the accusations, Blagojevich has appeared on Celebrity Apprentice. He said Friday that he might have to return back to the boob tube to support his legal defense.