VIDEO: Did Flight Attendant Steve Slater Start The Fight? Passengers Tell A Different Story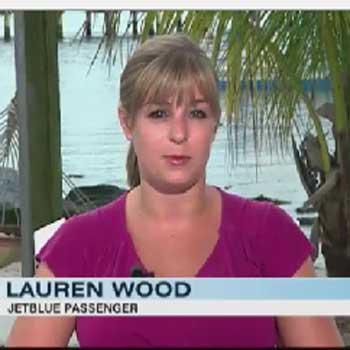 One minute a folk hero, the next a faux hero?
Watch the video on RadarOnline.com
That could be the case for the now famous JetBlue flight attendant Steve Slater, as a woman aboard the Pittsburgh-to-New York flight claims Slater was rude with guests, had been drinking during the flight, and sported a gash on his head before his alleged altercation with another passenger.
Lauren Wood, who was aboard the flight, wrote on her blog that the the 38-year-old New Yorker "was a jerk" and "is not some hero for sticking it to the man."
Article continues below advertisement
VIDEO: JetBlue Flight Attendant "A Little Overwhelmed" By All The Attention
Appearing on Good Morning America on Friday, Wood said that Slater was "very rude" at different times of the flight. She said that during his diatribe, he pounded on the emergency exit, fell down and pushed people -- including the pilots and other flight attendants trying to stop him.
Wood said that she saw Slater's head wound prior to his outburst -- contrary to his previous claims -- and that he remarked to another passenger that he'd had an unbelievable day.
Wood said she's been on another flight Slater has worked on, and he appeared to be much more subdued in the past, adding that she would never fly JetBlue again if the airline took Slater back.
Another passenger, Stuart Marland, told ABC News that Slater was grinning bizarrely throughout the flight.
Slater's attorney denied he had been drinking.
As RadarOnline.com has previously reported, Slater told authorities that following a testy run-in with a rude passenger Monday, he cursed over the plane's PA system, activated an emergency slide, grabbed a beer and slid off the plane.