Tattoo You: Kat Von D Temporary Tattoos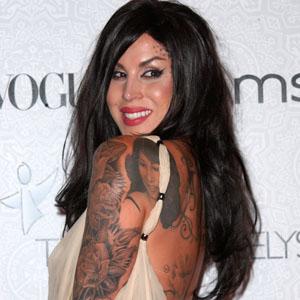 Even as someone with more than a few real tattoos, I've definitely tried different temporary options before. They're fun for costumes, for going out, or even for testing an idea before making the permanent commitment. My issues in the past with temporary tattoos have been options of designs, difficulty of application, wearability, and difficulty of removal.
The Kat Von D Adorn Temporary Tattoos Powered by TEMPTU from Sephora definitely stand apart from other temporary ink I've used in the past. First of all, the set includes 15 tattoo sheets, with multiple tattoos per sheet. This gives you 5 each of 9 different designs, which is way more of a variety than I've seen before. Of course, not every design may be for you; I loved the flock of birds but wasn't as enraptured by, for example, the angel. Of course, this means you can share your set with your friends, as long as you aren't fighting over the same designs! However, only 30 application pads are included. This sounds like a lot, but it won't cover the 45 included tattoos, particularly if you also use the pads for, as directed, removal.
Article continues below advertisement
Change It Up Baby: Sephora Color Play
I was in a rush when I applied my first "tattoo," but surprisingly it went on very easily and without any mistakes, even without any help from anyone else. When I met up with my friends later, I asked if they noticed anything unusual about the tattoo. Everyone assumed it was new, because they hadn't seen it before, but no one suspected it was fake until I told them. Once I let them in on this, however, a few people commented they weren't surprised because the tattoo was only black, whereas most real tattoos are full color. TEMPTU does make colored inks to remedy this, but that would be a great deal of additional work compared to the ease of simply applying the tattoo and dampening with the application pad. But besides this aspect, no one noticed a difference between the temporary tattoo and my real ink, which says a lot!
Do Celebs Look Better With Long Or Short Hair?
Unfortunately, even though I'd applied powder to my temporary ink, by the next morning, the tattoo was smudged and faded, and even though I tried to shield it in the shower, it looked even worse for wear after. On top of that, it wasn't easily removable with soap and water, so because I didn't want to sacrifice an application pad just for removal, I went around for a couple days with a sad, faded remainder of my temporary ink. Definitely didn't meet up with my expectations per the promise of 2 to 5 days.
I'll definitely use these again though, for a one-time event where next-day wear doesn't matter. The tattoos are vibrant, distinctive, and definitely believable. On top of that, they're fast and easy to apply (and remove, if using the application pad).