BEFORE THE JETBLUE MELTDOWN: Steve Slater Described Himself As A 'Bag Nazi'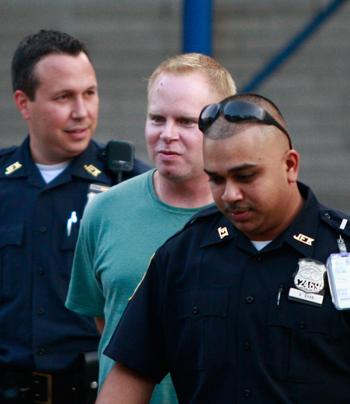 Steven Slater, the JetBlue flight attendant who was arrested for his onboard antics, reportedly tried to get his message out about carry-on baggage long before his meltdown, RadarOnline.com has learned.
Beginning in 2008, a man named Steven Slater that matches his description began posting messages on Airliners.net, vehemently warning readers about the dangers of carry-on luggage and the "monster" it had become. His most intense participation was in a thread called "Carry-On Baggage Endangers Crew And Passengers."
Article continues below advertisement
He writes: "The airlines have created a monster. Lousy baggage handling, theft, and now gouging with bag fees, why WOULD anyone want to check a bag? Add to the our collective laxidasical approach to enforcement, and you get a disaster. At the end of the day, the airlines have to step it up. I hate to be bag nazi when i work a flight, but I feel if I am not, then I am letting down all those who cooperate and thry to help out as well."
Slater has reportedly made up to 31 posts including one where he describes his hatred for new carry-on policies.
EXCLUSIVE: JetBlue Flight Attendant Took A Five Year Break From Flying
It appears Slater isn't that bad of a guy after all; just a deeply concerned flight attendant who takes his job too seriously. For now, his job and his future remain up in the air.