Rediscovering The Art Of Shaving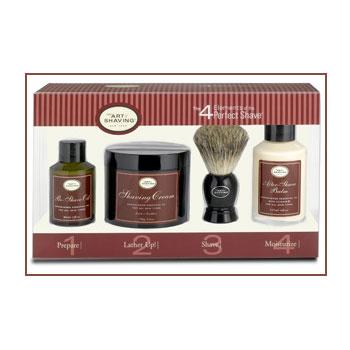 Have you ever wanted a professional shaving experience in your own bathroom? With the Art of Shaving's Four Elements of The Perfect Shave Set, you can get that perfect shave without stepping outside the house. Let's face it; Men will shave thousands of times during their lifetime, now they can do it in style.
The Art of Shaving experts claim the unique blends of botanical ingredients and pure essential oils are ideal for men with both sensitive and normal-to-dry skin, ingrown hairs, razor burn, and tough beards. The Full Size kit includes Pre-Shave Oil, Shaving Cream, After-Shave Balm, and a Pure Badger Shaving Brush. The thick glass packaging makes each product look fabulous on any bathroom counter. With scents like Lavender, Lemon, Sandalwood, and Unscented, there is a set perfect for anyone and every type of skin.
Article continues below advertisement
We put The Four Elements of the Perfect Shave Set to the test, and were overjoyed with the results. Who thought shaving could feel so exhilarating. This kit not only provided the most excellent at home skin care combination, but also smelled great. We noticed this kit gave us a close shave and left our skin feeling moist and hydrated, rather than dry and chaffed. $100 at www.theartofshaving.com.