Get Arched Like The Stars...For Less!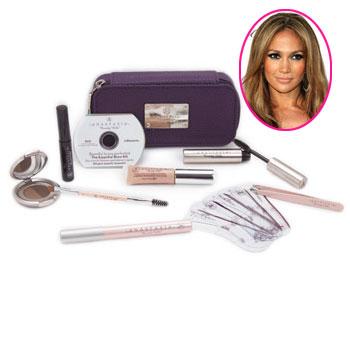 Anastasia Soare has been plucking, waxing and teasing the eyebrows of the Hollywood A-list for many years. With two lavish full-service salons in Brentwood and Beverly Hills, California, and an endless list of celebrity clients including Jennifer Lopez, Reese Witherspoon and Renee Zellweger, it can be difficult to score an appointment with the sought after brow sculptor, so we were delighted to discover that she put together an easily accessible do-it-yourself brow kit!
Article continues below advertisement
Anastasia Dishes On How To Get The Perfect Brows
Anastasia's The Kit for Perfect Brows and Eyes contains everything you need to shape and/or maintain perfectly arched brows. For those of you who aren't so familiar with the art of plucking, there is even a DVD and instruction guide, which will take you through the process step-by-step.
The set contains Cooling Eye Brightener, Mini Lash Lifting Mascara, Stencils, Brow Powder Duo, Precision Tweezers (the best we have ever used BTW!), Clear Brow Gel, Matte Camille Highlighter and a Mini Duo Brush. Everything comes packed neatly inside a purple leather pouch, which is ideal for bringing along on your travels. Though the kit contains $171 worth of product, it retails for only $75!
Kim Kardashian Gets Tweezed At Anastasia
Of course, nothing is as good as the real thing. If you can, we suggest splurging on a visit with Anastasia herself. Once she finds the perfect arch for your face, you can replicate the look at home with her crafty kit.