PHOTOS: Jon Gosselin -- Shirtless & Making A Splash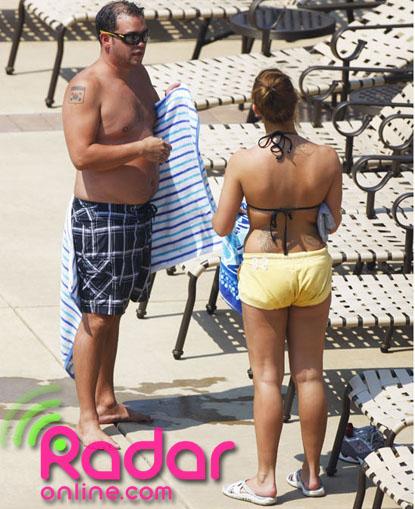 He might not be Playgirl-ready, but at least the guy's trying.
A slimmer-looking Jon Gosselin and his new gal pal Ellen Ross enjoyed their Sunday out by the pool at Jon's apartment complex in Reading, Pennsylvania, and RadarOnline.com has the brand new pics for you.
The ex-TLC star, clad in boardshorts with a plaid pattern, looked to have taken some of the extra pounds off his paunchy midsection. Ross showed off her sexy summer figure in a pink plaid bikini.
Article continues below advertisement
The summer lovers ended the day, according to the father-of-eight, taking in a Rob Pattinson flick.
"Remember me was a really good movie, watched it last night," he Tweeted Monday. "However, the ending was quite a twist!"
Since splitting with ex-wife Kate, Jon has been romantically tied to a number of young women, including Ross, Hailey Glassman, Michael Lohan's ex Kate Major and one-time family babysitter Stephanie Santoro.