PHOTOS: Elin Surfaces For First Time Since Finalizing Divorce With Tiger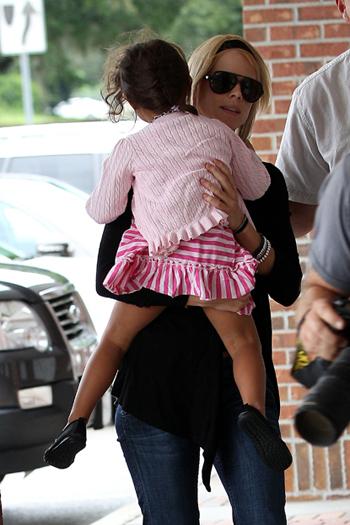 A day after Tiger Woods and Elin Nordegren's divorce was finalized in a Florida court, the Swedish beauty surfaced to take the couple's children to the doctor's office.
Dressed in jeans and a black shirt paired with dark sunglasses and a black headband, Elin held her daughter Sam and son Charlie close as she navigated her way to the appointment.
Elin was spotted tenderly whispering into Charlie's ear as the wide-eyed toddler surveyed the crowd of photographers.
Article continues below advertisement
EXCLUSIVE  PHOTOS: First Pictures Of Tiger Woods In Sex Rehab
In a joint statement through their lawyers, the couple said: "We are sad that our marriage is over and we wish each other the very best for the future. While we are no longer married, we are the parents of two wonderful children and their happiness has been, and will always be, of paramount importance to both of us."
RELATED STORIES:
NEW DETAILS: Tiger Woods Divorce FinalizedNEW DETAILS: Tiger Woods Divorce Finalized