PHOTOS: Does Katie Holmes Dress Older Than Other Stars Her Age?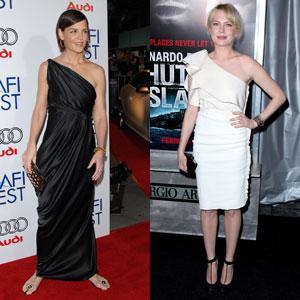 Sometimes we have a hard time remembering that Katie Holmes is only 31-years-old. Married to a much older man (Tom Cruise is 16 years and 168 days her senior), the former Dawson's Creek star doesn't dress anything like other stars in her age group -- often wearing fashions suited for people thirty years her senior!
Though Katie's old Dawson's Creek costar is only two years younger, Michelle Williams dresses years behind her. Both the gorgeous mothers have worn one-shouldered frocks for red carpet events, and while Michelle opted for a knee-lengths hemline, showing off her legs in sexy heels, Katie covered up in a floorlength, pairing the dress with not-so-sexy flats.
Article continues below advertisement
Kate Hudson is exactly the same age as Katie, but you would never be able to tell if you saw them out on the street together. While SoCal Kate rocks flirty floral rompers with UGG boots, Katie wears floral skirts over footless tights with ballet flats and Birkin bags.
Reese Witherspoon has two children and a super busy career, but if you saw the two ladies in a lineup, you would never guess that Reese has 3 years on her! While Reese dresses super sophisticated and loves boyfriend cardigans, she manages to keep up her sex appeal, adding elements like platform wedge sandals to balance the look out. Katie, on the other hand, pairs her boyfriend's with baggy jeans and skirts.
MORE ON:
Michelle Williams
How does Katie's style compare to other stars in her age group? Check out the gallery in Style to see the shocking photos!