PHOTOS: 5 Things You Didn't Know About Birthday Boy Maddox Jolie-Pitt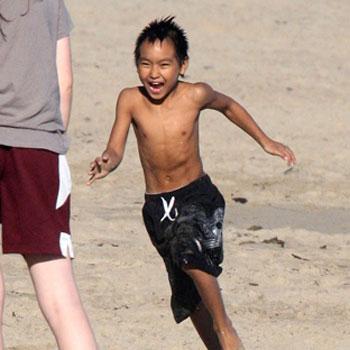 Before Brad Pitt came into the picture, Maddox was the man who turned Angelina Jolie's head and changed her life. In honor of his ninth birthday Thursday, RadarOnline.com recounts his most memorable photo moments and a few little-known facts about one of the most famous celebrity kids.
1. Maddox Was Sleeping When He First Met His New Mom: "There were about 14 kids in the orphanage, and he was the last child I saw," she told Reader's Digest about their first meeting while she was on a 2001 UN trip to Cambodia . "They put him in my arms, and he was still asleep. Then they put him in a bath, and he stayed asleep. Then I sat with him and he opened his eyes and just stared at me for the longest time. Then he smiled."
He's A School-Loving History Buff: "Mad's a real intellectual, which I can take no credit for genetically," Angelina told Vanity Fair about her oldest child. "He's great at school, great at history. He feels like he could be a writer or travel the world and learn about places and things."
Maddox's Given Cambodian Name Was Rath Vibol: Angelina officially requested his name to be changed to Maddox Chivan after adopting him.
Maddox Inspired Angelina To Take Flying Lessons: "When Maddox was one and a half, we used to go to the airfield, have lunch and watch the planes. And it dawned on me: I could fly. So I promised him I would fly by his second birthday."
Maddox Wants More Siblings: "This is Mad's fourth/fifth time becoming an older bro. He's asking when we can have more," Pitt told People after the arrival of the couple's twins in 2008. When Maddox was 4, he even pushed to have an African sibling since he was so "in love" with Africa. He got his wish shortly after when Angelina and Brad adopted Zahara from Ethiopia!
Article continues below advertisement