More Heartache For Laurence Fishburne; Daughter Poses Nearly Nude On Mag Cover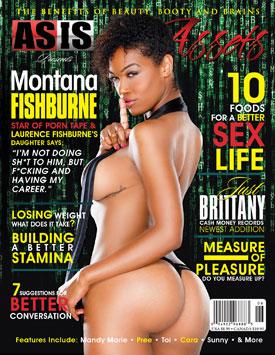 Laurence Fishburne's fatherly woes are about to get worse: his porn star daughter Montana has posed nearly nude on the cover of As Is magazine.
But unlike her adult videos where she was au natural, it looks like the magazine has touched up her derriere.
VIDEO: Montana Fishburne & Boyfriend Talk Kim K., Fallout With Dad, & 'Leopard Booty'
Montana's spotty discoloration on her backside is something the porn star spoke about recently.
Article continues below advertisement
"I've had spots on my butt forever – it's a leopard booty," she joked.
On the cover of As Is, a title that touts itself as 'the benefits of beauty, booty and brains', her bottom is all one smooth color.
But some things do stay the same, including her attitude towards her father.
The headline quote from Montana reads: "I'm Not Doing Sh*t To Him, But F**king And Having My Career."
"I just didn't want to wait. I turned 18 and I was like 'alright,'" Montana has said about shooting porn.