Nigel Lythgoe: I'd Take Paula Abdul On American Idol "In A Heartbeat"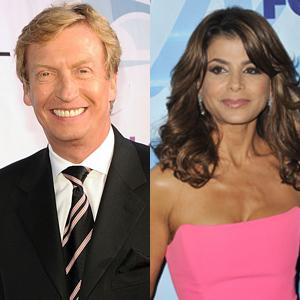 The American Idol shake-up continued Thursday, as the show's returning executive producer Nigel Lythgoe dropped an intriguing name as to who you might be seeing on the show when it begins its tenth season next year: ex-judge Paula Abdul.
"I still love Paula," Lythgoe told Daily Variety Wednesday. "She's signed to CBS, probably exclusively, but I'd recommend we have her in a heartbeat."
American Idol has undergone some dramatic changes since Abdul left following the end of the show's 2009 season, as Simon Cowell left after the 2010 season finale, while Abdul's replacement, Ellen DeGeneres, bolted after just a year, saying she wasn't a good fit for the show.
Article continues below advertisement
Aerosmith's Steven Tyler and Jennifer Lopez have been rumored to be joining incumbent judge Randy Jackson on a three-person panel, leaving the status of judge Kara DioGuardi, who has been on the show for two years, up in the air. When asked about DioGuardi Monday -- who reports have claimed is on the way out -- Fox reps said they "will not get into the speculation."
Lythgoe did not get into the DioGuardi situation, nor did he confirm the rumors about Tyler and Lopez joining the cast, though he gave glowing appraisals of both entertainers.
Paula Abdul Begins Auditions For New Reality Show
Of Lopez, he said: "They can knock her film career, but audiences know she's a good actress. And as J.Lo, she has had some great pop records. If she joins, I'm happy."
And as for Tyler?
"He has come through that whole rock 'n' roll circus," Lythgoe said. "Why wouldn't you want a legend there? You never know what he's going to say. That, as a TV producer, you're interested in."
AUDIO: Steven Tyler: American Idol Gig "A Work In Progress"
Fox head Rupert Murdoch didn't provide much more insight when asked about the American Idol shake-up Wednesday.
"We are very close to announcing who the judges will be," Murdoch told The Hollywood Reporter. "There are very active negotiations with a number of people."
Check back with RadarOnline.com for more news on American Idol.