AUDIO: Steven Tyler: American Idol Gig "A Work In Progress"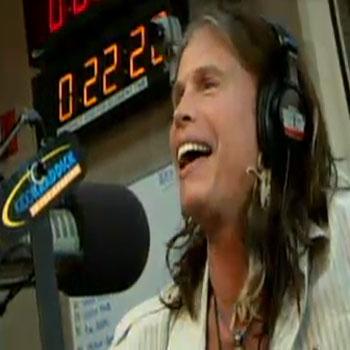 Is Steven Tyler gonna walk this way -- onto the set of American Idol next year?
"Its a work in progress," the Aerosmith front man Tuesday told Kidd Kraddick in the Morning, a nationally syndicated radio show, confirming that he's been approached by Fox about appearing on the show. "They mentioned it, and I listened, and we're on tour, so I gotta give it some time."
No New Deals Have Been Signed For American Idol, Say Fox Execs
Article continues below advertisement
Tyler, asked hypothetically what kind of judge he would be, said "Judge and Jury ... I don't know."
Tyler, 62, said he'd "be honest to the ones that think they have it, and I would be truthful and sensitive to those who have it, but don't have it all yet."
Listen to the audio on RadarOnline.com
Read FOX's Official News Release On Ellen Quitting Idol
Tyler and Jennifer Lopez are rumored to be joining incumbent judge Randy Jackson on a three-person panel after a whirlwind of changes, some expected, some unforeseen: Paula Abdul left following the end of the show's 2009 season, while Simon Cowell left after the 2010 season finale. Ellen DeGeneres abruptly quit after just a year, saying she wasn't a good fit for the show.
Fox execs were coy in addressing the issue Monday, saying that "lots of the speculation has been wildly inaccurate."
Ellen DeGeneres Quits After One Season On American Idol
When asked about the status of judge Kara DioGuardi -- who reports have claimed is on the way out --  network reps said they "will not get into the speculation."
Check back with RadarOnline.com for more news on American Idol.