Katy Perry Dishes On Rumored Miley Cyrus Rivalry And Her Twitter Obsession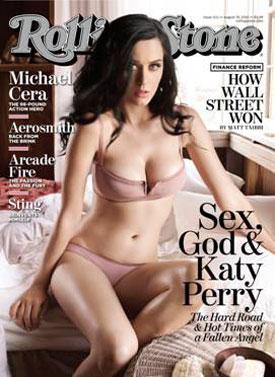 Bride-to-be Katy Perry is keen to put any rumors of bad blood between her and pop rival Miley Cyrus behind her once and for all, so she opened up to Rolling Stone magazine about the alleged rift – plus her Twitter and Google obsessions – and RadarOnline.com has the inside scoop.
The battle of the babes started after the MuchMusic Awards in Toronto when there were numerous reports that Perry had bashed Cyrus' new sexy look, calling it "Britney Spears all over again….It's worse. Look at those outfits. It's bad."
Article continues below advertisement
Katy Perry's Pre-Wedding Day Diet Secrets
Katy, who did some back-up vocals on one of Miley's albums, was quick to put out the fires by hitting up Twitter and let her whopping 3,062,173 followers hear her side of the story. "I never said s*** 'bout my girl Miley. I love that ho," she blasted out.
"It's a little gross," The I Kissed A Girl singer admitted. "I'm sure no one knew or cared about that line about Miley. When you look at other celebrities' Twitter feeds and see them posting about something they read about themselves on a Google Alert, it's like, 'Uh, maybe you should stop Googling yourself every day, the world does not spin around you.' "
Perry is adamant that she's not alone with her Google addiction: "Any artist who says they don't Google their name is a big fat liar," she told Rolling Stone.
Despite the drama, Katy admits that she loves the attention as much her husband-to-be Russell Brand, and says she found the whole interaction deeply satisfying – especially getting the chance to call squeaky clean Cyrus a "ho."
The new issue of Rolling Stone with the full interview with Katy Perry will be on newsstands nationwide on Friday.