Katy Perry's Pre-Wedding Day Diet Secrets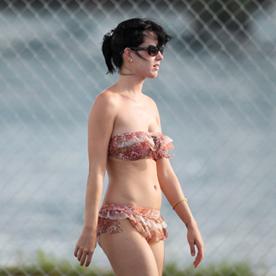 With her wedding to outrageous comedian Russell Brand just months away, Katy Perry isn't wasting any time getting into shape and RadarOnline.com has inside details on her diet and workout plan.
Perry's last album was titled 'One Of The Boys,' but her feminine figure is 100 per cent woman and she loves to flaunt her curves in flesh-bearing outfits.
The pop sensation has been perfecting her body for her big day by working out with celebrity trainer Harley Pasternak for the past year and is following his Five Factor Fitness program.
Article continues below advertisement
"Her goal is to look amazing…always," Pasternak told RadarOnline.com in exclusive interview. "She's getting in shape for everything...wedding, music videos, touring, etc.
"She works out as often as she can, she's a busy woman but her goal is five times a week."
The 'I Kissed A Girl' singer follows Pasternak's signature Five Factor Fitness program - a five-phase circuit that works each body part for five minutes, alternating between cardio, upper and lower body strength training, and abs to get a kick-ass workout in just 25 minutes.
The former junk food junkie has given her diet a makeover to match her new healthy lifestyle. "My fave things include barbeque chicken chop at CPK Chinese….my beloved double double at In-N-Out Burger," Katy told OK! Magazine, about her past bad eating habits.
But she's now ditched the fried food and heavy carbs in favor of lighter, high-protein fare. "She eats five small meals a day, each containing healthy fats, lean protein, fiber and a non-sugar drink," explains Pasternak. "A typical day's diet would be an egg white omelet with a bowl of berries, an apple cinnamon smoothie, a chop salad, three-bean BBQ chips and finishing off with a seafood stir fry for dinner.
While they've not revealed the wedding date yet, Perry assures fans that she won't turn into a "bridezilla" before she walks down the aisle. "It's not going to be a big hoopla thing. We have enough hoopla in our lives as it is," she told EOnline.com.