EXCLUSIVE: Zsa Zsa Gabor's Deathbed Reunion With Daughter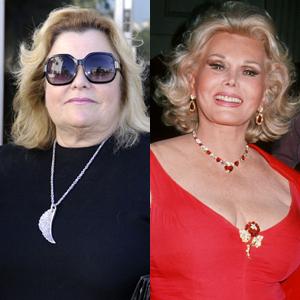 Zsa Zsa Gabor has reunited with her estranged daughter, Constance Francesca Hilton, during her final days, RadarOnline.com has learned exclusively.
Hilton, the showbiz legend's only child, was at her mother's bedside at her Bel Air mansion Monday night.
In 2005, Gabor and her husband, Frederic Prinz Von Anhalt, filed a lawsuit against Hilton surrounding the refinancing of their famous estate.
Zsa Zsa Gabor In Extremely Serious Condition, Read Last Rites
Article continues below advertisement
The lawsuit alleged a wide range of actions from elder abuse to fraud and intentional infliction of emotional distress.
The former Miss Hungary, best known for her multiple marriages and for slapping a Beverly Hills police officer who stopped her for a traffic violation, accused Hilton of conspiring with others to fraudulently take out a $3.75m loan on her home and of then taking $2m of it to buy herself a house.
Francesca said she was wrongfully accused on all counts and countered, claiming she suffered serious damages as a result of the false accusations.
Zsa Zsa Gabor Hospital Release Delayed
When Gabor refused to appear in court or to sign an affidavit that she indeed was a co-plaintiff on the original law suit filed by her step-father, the Santa Monica Superior Court threw out the case.
Gabor, 93, had been hospitalized due to complications from a broken hip.
Article continues below advertisement
But as RadarOnline.com reported, she refused a new operation and was released from hospital and allowed to go home.
"She has a full hospital set up and round the clock nurse care," publicist John Blanchette told RadarOnline.com.
Blanchette said doctors were ready to perform a liver operation, but gave up on the idea after the actress insisted she wanted to return to her home.
"With a 50 percent chance of survival, so she opted to not do any further procedures," Blanchette said.
"She has two stints in her heart, had a reaction to morphine, got the infection, had blood clots and they decided she has been through enough.
"She is still on IV (intravenous) and eating through a tube, she must start eating solid food if she is to survive."
On Sunday, Gabor had called a priest into her hospital room for her last rites.
The Hungarian-born actress was partially paralyzed in a 2002 car accident.
She fell out of bed last month while watching television and reaching to answer the phone.
Said Blanchette, "Zsa Zsa's only visitors are Frederick and her daughter Francesca."
Francesca was born when Zsa Zsa was married to hotel magnate Conrad Hilton, which makes Francesca the Paris Hilton's great aunt.
Gabor starred in such films as Moulin Rouge, Lili and Touch of Evil, and was one of three glamorous sisters who stole the Hollywood limelight in the 1950s and 1960s.