Exclusive
EXCLUSIVE: White House Gatecrasher Claimed Attorney Assaulted Her -- Just Like Incident On 'The View'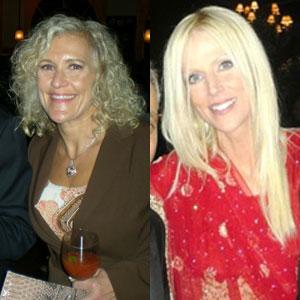 Michaele Salahi's blowup with Whoopi Goldberg is not the first time the White House gatecrasher has claimed she was assaulted after being lightly touched, RadarOnline.com has exclusively learned.
In an almost carbon copy of The View incident, a Virginia attorney has come forward to tell RadarOnline.com she also touched Michaele on the arm, during a court case on January 14, 2009 – and was later accused by Michaele of assault!
Article continues below advertisement
EXCLUSIVE DOCUMENT: The Salahi's Criminal Complaint
Whoopi lightly touched Salahi during a segment on the ABC show on Wednesday and according to ABC Salahi later said she was hit by Whoopi.
Cynthia Revesman, a Virginia attorney, not only got the same treatment from Salahi but Michaele even filed a police report against her alleging she was assaulted.
"When I saw this (on The View) I thought, this is the same thing, where not even a touching becomes a hit," Revesman told RadarOnline.com.
And Revesman's client told RadarOnline.com that when he saw The View, "I just laughed. I thought it was hysterical…Cindy emailed me right away and she said,'Oh my god, this is bringing back memories.'"
EXCLUSIVE VIDEO: White House Crashers Ridiculously Lavish Wedding
This is how the Revesman incident went down.
Revesman said she was in court acting on behalf of a client, who was suing the Salahi's for an unpaid bill, when she turned to Michaele and her "finger touched her arm".
Article continues below advertisement
WORLD EXCLUSIVE VIDEO INTERVIEW: White House Gatecrashers Michaele and Tareq Salahi Demand Apology
"Michaele then begin screaming "stop hitting me" and she turned the to bailiffs and she said "make sure she doesn't hit me again"," recalled Revesman.
"My client was standing right next to me and I said, 'What are you talking about?' and she responded, 'You just hit me'.
"I said, 'No I didn't, I don't understand what's going on here.' The bailiffs were all looking at me throwing their hands up in the air."
Article continues below advertisement
Revesman said after her clash with the Salahis, she had no doubt what their motivation was in making the assault allegation against her.
The attorney said, "What they do is they take the assault charge and go after the opposing council in the other side; they want you to barter their criminal process with a civil process going on. That is their whole m.o (modus operandi)."
VIDEO: Whoopi & White House Gatecrasher Clash Backstage At 'The View'
In the video of The View incident, Whoopi can be seen briefly touching Michael and is heard asking her to talk about the White House incident.
According to Michaele, later and behind-the-scenes, Whoopi launched into a cursing tiade that left her in tears. On Facebook, she termed the incident "outrageous abuse".
"I walked off the show and said goodbye and was in the back and Whoopi came in and said, 'F*** this, f*** that, Did you say I F***ing hit you?'," Michaele said during a Today Show appearance on Thursday.