VIDEO: Whoopi Makes "No Apologies" For Backstage Fight With White House Gatecrasher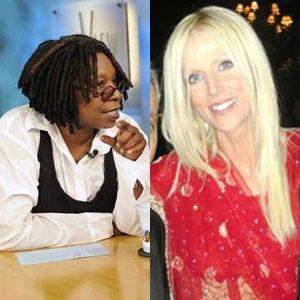 Whoopi Goldberg wasted no time on Thursday's The View setting the record straight about her controversial back-stage confrontation with Michaele Salahi of The Real Housewives of DC, best known as the White House Gatecrasher, and RadarOnline.com has the details.
As soon as the hosts entered at the top of the show, Whoopi immediately showed a clip of what went down on Wednesday's show.
The clip showed Salahi sitting on a sofa with the other Real Housewives being interviewed by Whoopi's co-hosts Sherri Shepherd and Joy Behar. Whoopi was not involved in the on-camera interview, but that didn't stop her from unexpectedly coming on to the set from backstage, touching Salahi from behind and startling her.
Article continues below advertisement
VIDEO: RadarOnline.com's David Perel Talks Mel Gibson Tapes On The View
After showing the clip, Whoopi explained that she was standing backstage listening to the interview, and that sometimes, when the spirit moves her, she'll come on stage even if she is not a part of the segment to add her two cents.
In this case, she was waiting for the conversation to get back to what happened at the White House. Frustrated that they were talking about other trivial matters, Whoopi says she was moved to come on stage and tell them to move on. Whoopi then showed a clip of what happened from another camera angle where you can see and hear more clearly what Whoopi did and said. The clip showed Whoopi walking onto set, touching Michaele's arm and saying "Can you get back to the White House, please".
On Thursday, Whoopi explained that was all there was to it, but after the interview she heard that Salahi accused Whoopi of hitting her. Whoopi then said she had a few "choice words" for Salahi.
As the conversation got more heated, Michaele's husband got in on the argument. "He got in my face", Whoopi said, "and got out his blackberry and started taking pictures". The really set Whoopi off! She said, "I had more choice words... so choice you could cut them with a knife"
Article continues below advertisement
Said Goldberg on Thursday's show, "I make no apologies for my choice words."
Whoopi's co-host Elisabeth Hasselback then read a statement from the Salahi's lawyer, Lisa Bloom, "the Salahis did not crash the White House and no crime was committed". While Elisabeth was reading the statement Whoopi was coughing -- seemingly sarcastically. As the camera came back to Whoopi she simply said, "Let's move on," and dropped the subject for good.
The View released an official statement on Wednesday stating that "After the show, Ms. Salahi and her husband accused Whoopi of hitting Ms. Salahi" and "Whoopi proceeded to defend herself verbally from this baseless claim in a heated exchange with the Salahi's."
White House Crashers In Court: $325,000 Watch Seized To Pay $925 Gardening Bill
The Salahi's attorney Lisa Bloom told RadarOnline.com that "When the segment ended Michaele burst into tears backstage and several people came up to talk to her and she found an office," Bloom said.
Article continues below advertisement
At that point, Whoopi unleashed a few f-bombs on her morning show guest, says Bloom.
"Whoopi came in and according to Michaele said, 'I don't think I f**king hit you. What the f**k is this.'"
EXCLUSIVE VIDEO: White House Crashers Ridiculously Lavish Wedding
Michaele responded, according to Bloom, "What are you talking about?"
And Whoopi said, "Someone said that you said I hit you," Bloom recalled to RadarOnline.com of the chain of events.
radar_embed service=5min.com src=" http://pshared.5min.com/Scripts/PlayerSeed.js?sid=1126&width=486&height=412&playList=517707687&sequential=1&shuffle=0"