Exclusive
EXCLUSIVE: Real Housewives Star Danielle Staub's Intimate Birthday For Two!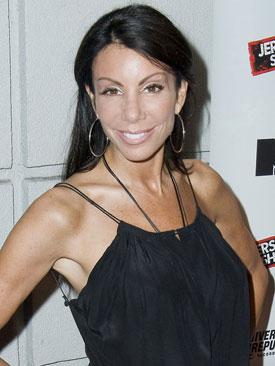 Real Housewives of New Jersey star Danielle Staub recently celebrated her 48th birthday, and RadarOnline.com has exclusive details on her intimate dinner date with best gal pal and rumored girlfriend, Lori Michaels.
Lori picked up Danielle for their "low key" dinner at Houston's in Hackensack, NJ last Thursday, and once they got there the reality star got her fair share of birthday wishes from fellow diners.
Article continues below advertisement
Article continues below advertisement
Far from the villain that she is portrayed as on the Bravo show, Danielle was as nice as pie to all her admirers as she shared a 'birthday' Key Lime pie with her special date. "The waitress brought out her cake, but hid the candle and I didn't sing because we didn't want to draw extra attention to the table," said Lori.
"Danielle posed for every picture requested, talked to everyone, young and old," explained Lori. "The waitress commented to us that famous people go there all the time and she has never seen people react like they did for Danielle."
The couple, who have kept mum about the nature of their relationship since they first performed their duet 'Real Close' in June, laughed and managed to go a whole dinner without talking about business, Lori said.
Instead they just enjoyed the moment and celebrated the big event. "We had lots to drink cranberry and seltzer – we were wild!" exclaimed Lori.