Exclusive
EXCLUSIVE: Rachel Uchitel Accused Of Having Affair With Married Man - Celeb Rehab Co-Star Jeremy London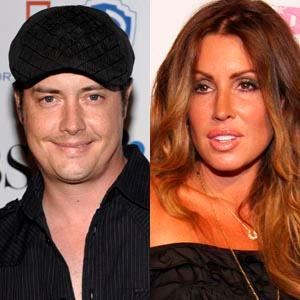 Rachel Uchitel has been accused of charming another married man, but this time it's Celebrity Rehab alum Jeremy London.
London's estranged wife Melissa has told friends she believes the Mallrats and Party of Five star is involved in a romantic relationship with Uchitel, RadarOnline.com has learned.
While he stopped short of denying a romance, London told RadarOnline.com he had a strong relationship with Tiger Woods' former mistress, someone he describes as an "amazing, intelligent and sensitive person".
Article continues below advertisement
"I'm very protective of Rachel because of our friendship," London said.
"She's been wrongfully persecuted by the media and because of what the media has done to me after I was nearly murdered, I relate to her."
Jeremy and Melissa, who married in 2006, have had a rocky relationship. It reached its head when he was allegedly kidnapped, robbed and forced to smoke drugs during an ordeal in Palm Springs.
The pair, who were together that night, later checked into rehabilitation together.
London joined the crew of Dr. Drew's Celebrity Rehab 4, while Melissa became an in-patient at Pasadena Recovery Center, to be treated for a prescription drug addiction.
Since completing treatment, however, the pair has separated but remained legally married.
"She said she had to get out of LA and the Hollywood scene," a source told RadarOnline.com.
Another source told RadarOnline.com that Melissa flipped out on Jeremy after she confronted him about having a sexual relationship with Rachel Uchitel.
Article continues below advertisement
"Rachel and I are good friends PERIOD," London told RadarOnline.com exclusively.
"Melissa is ridiculous... she has no idea what she's talking about and she's behaving like a child.
"Rachel is an amazing, intelligent and sensitive person; she's a human being with human feelings."
As RadarOnline.com revealed, Uchitel checked into a sober living facility in Malibu, California, to be close to London and other co-stars, who moved there once the show finished filming.
In an interview earlier this month, Melissa told RadarOnline.com she and Jeremy were legally separated and said there was no chance of a reconciliation between the pair.
"Right now, I can date whomever I want and he can date whomever he wants," she said.
"Rekindling our marriage is out of the questions but I want him to be a good supportive father to our son."
RELATED STORIES: