Exclusive
EXCLUSIVE: NJ Housewife Teresa Giudice Says She Only Owns Costume Jewelry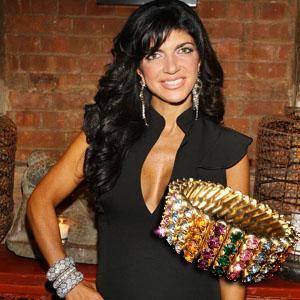 Flashy New Jersey Housewife Teresa Giudice may take the phrase "diamonds are a girl's best friend" to a whole new level -- but she claims it's all fake!
According to a transcript obtained by RadarOnline.com of a Chapter 7 hearing in February 2010, Teresa said all of her jewelry was stolen and other than her wedding band, she only wears fake jewelry.
"My jewelry got stolen a couple years ago at our house in Lincoln Park…we had a break-in. So unfortunately, a lot of – all my jewelry got stolen there.
Article continues below advertisement
"It's all costume jewelry… and if you look at what I wear, it's all costume jewelry," she stated to the trustee attorney questioning her during the hearing.
But what about the massive yellow diamond ring Joe Giudice gave Teresa for their 10th wedding anniversary that aired on this season of the hit Bravo show?
When asked how much the insurance company paid her for the loss, she said, "like 20?... yeah."
"You had a claim here much greater. It was like 120,000," the trustee lawyer probed.
"Well, I mean, you know, when you get estimates from jewelers, they always put it for more than what it is," Teresa said.
So what jewelry does Joe own? He claims "the chain around my neck" and no other jewelry. "I actually had a watch and just lost it the other day," he stated in the transcript.
It couldn't have been that important because Joe didn't even remember what kind of watch it was, even though he owned it for 20 years.
Article continues below advertisement
"I think it was an Esquire or something – I don't even know."
The trustee attorney questioned if he was telling the truth: "You seem to take this with great levity…you have to be more serious about this. Your petition lists a gold necklace and a gold cross. Do you own – do you still have that?" Joe then answered "yes." When grilled about his wedding band, Joe admitted he still owns that as well.
According to the transcript, the Giudices filed W-2 forms indicating they made $598,000 in 2007 and $575,000 in 2008. They also listed income of $3250 a month "doing odd jobs here and there, little stucco jobs and renovations" and $5000 monthly assistance from his father. "Whenever I need it, I ask him," Joe said of his father's contributions.
The attorney also grilled the Giudices on their claim that they only had $1000 in the bank when they filed their petition for bankruptcy in December 2009.
"You didn't have thousands of dollars or hundreds of dollars?" the trustee lawyer asked. Joe answered: "Maybe a few hundred, I don't know."
Also, when asked about their home furnishings, the couple claimed "they're used."
RELATED STORIES:
EXCLUSIVE: NJ Housewife's Auction Could Be More Popular Than Whitney Houston, Says Auctioneer