Exclusive
EXCLUSIVE: Mel Gibson Assaulted Oksana Just Weeks After Baby's Birth, She Charges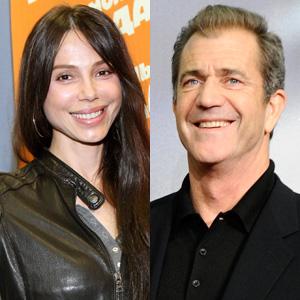 Mel Gibson's alleged flurry of punches during a brutal brawl on January 6, that left Oksana Grigorieva with two broken teeth and a concussion, was not the first instance of domestic violence, his ex-lover has claimed to law enforcement authorities.
RadarOnline.com has learned exclusively that Oksana told investigators the Oscar-winning director/actor first assaulted her in November, 2009.
It was just a few weeks after Oksana gave birth to their daughter Lucia.
Article continues below advertisement
"Oksana said Mel got right up in her face during a confrontation and was screaming and berating her," said a source familiar with the investigation.
She told law enforcement Mel was so mad, he was literally frothing at the mouth as he spewed hatred and even spat saliva all over her face.
"Oksana said during the incident Mel pushed her on the shoulder and butted her with his chest," said the source.
"Oksana claimed Mel pushed her a number of times during their relationship."
As RadarOnline.com first revealed, Mel also allegedly slammed a chair against a glass door, shattering it during a December, 2009, confrontation.
"Oksana said Mel grabbed a chair and slammed it into the bedroom's glass door," said a source.
"The chair broke and the glass door was shattered."
After the glass door broke, he allegedly followed up by chest butting Oksana into a corner while she was holding the baby, who was only weeks old at the time.
Article continues below advertisement
"Mel told Oksana to leave his house so she started packing up," the source said.
"Half an hour later he told her she wasn't going anywhere and demanded an apology from her."
According to the source, Oksana said she feared for her life and against the will of her mother, who was in the house, apologized to Mel and stayed at the house.
As RadarOnline.com reported exclusively last week, the Los Angeles County Sheriff's Department will turn over the case to the District Attorney's office in approximately two weeks. The D A. will ultimately decide if charges will be filed.