EXCLUSIVE INTERVIEW: Zsa Zsa Gabor's Husband Says He Plans To Sue Her Daughter -- Again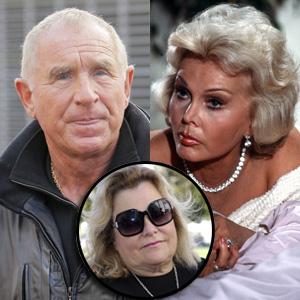 An ongoing family feud between Zsa Zsa Gabor's husband and daughter will haunt her to the grave.
Despite the Hollywood icon's deathbed reunion with her estranged daughter, Constance Francesca Hilton, Zsa Zsa's husband Prince Frederic von Anhalt has exclusively told RadarOnline.com he plans to re-ignite the 2005 lawsuit which alleged she stole millions from her mother.
"People come out of the woodwork, like vultures waiting for her to die, so they can take her money but I will not let that happen," said Zsa Zsa's ninth husband, from their Bel Air mansion.
Article continues below advertisement
EXCLUSIVE: Zsa Zsa's Husband: "She's Not So Well"
The former Miss Hungary, best known for slapping a Beverly Hills police officer who stopped her for a traffic violation, accused her daughter of conspiring with others to fraudulently take out a $3.75m loan on her home and of then taking $2m of it to buy herself a house.
Francesca -- whose father was hotel magnate Conrad Hilton -- said she was wrongfully accused on all counts and countersued, claiming she suffered serious damages as a result of the false accusations.
It was thrown out of court when Zsa Zsa refused to appear or to sign an affidavit that she indeed was a co-plaintiff.
Zsa Zsa Gabor Hospital Release Delayed
Reviving the case, Prince Frederic told RadarOnline.com he was forced to drop the lawsuit three-years-ago because of his Zsa Zsa's deteriorating health.
"My focus now is to care for Zsa Zsa as best I can... but I plan on suing Francesca again," he confirmed.
Article continues below advertisement
"She is only after whatever money she thinks her mother has and I will fight to protect Zsa Zsa and won't let that happen."
The 93-year-old showbiz legend had been hospitalized due to complications from a broken hip, but she refused a new operation and was released from the hospital and allowed to go home.
In a candid interview, Prince Frederic said Zsa Zsa was watching her two favorite programs, Jeopardy and Wheel of Fortune, "if she's awake".
"Zsa Zsa is improving a bit," he said, adding that she even asked her husband about his now-defunct gubernatorial campaign.
Frederick said he was struggling to come to terms with his wife's deepening health woes: "We have been together for 24 years - at first - it was all Hollywood' but I have grown to love her so much and we are each other's life."
Zsa Zsa's doctor checked out her hip wound on Tuesday, and said it appears to be healing well.