Exclusive
EXCLUSIVE INTERVIEW: Jeremy London Was Trying To 'Score Drugs' During Alleged Kidnapping, Says His Wife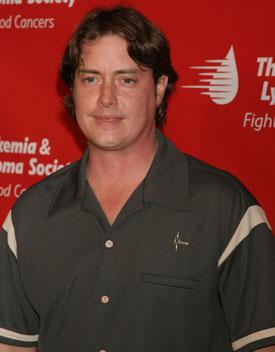 Melissa Cunningham, the wife of actor Jeremy London, has turned whistleblower against her soon-to-be ex-husband, claiming the Mallrats star was looking to "score drugs" on the night he was allegedly kidnapped.
"I believe it was a drug deal gone bad," Cunningham told RadarOnline.com, in an exclusive interview from inside drug rehabilitation.
Cunningham revealed she now plans to tell detectives investigating the bizarre incident -- in which London claimed a group of men kidnapped him and forced him at gunpoint to go on a four-hour cocaine and methamphetamine binge -- that she overhead the actor asking one his 'kidnappers' about the drug Vicodin.
Article continues below advertisement
She also confirmed she and London, best-known for his roles in the 90's TV series Party of Five and 7th Heaven, had taken the prescription drug Ambien just hours before the alleged kidnapping in Palm Springs, California.
EXCLUSIVE PHOTOS Of Jeremy London And His Wife
"The day of (the alleged kidnapping) he was on Ambien," said Cunningham, who is being treated for an addiction to Vicodin and Xanax, at Pasadena Recovery Centre, in California.
Article continues below advertisement
The 26-year-old -- who has been charged with kidnapping, robbery, possession of stolen property, vehicle theft and carjacking -- claimed London went on a consensual alcohol and drug induced "joyride for hours" on the night in question and that the actor asked Adams to "score him pills".
EXCLUSIVE: Kidnappers Gave Jeremy London's Wife Ride Home!
"We got drunk and I hooked him up with some Ecstasy and Xanax and we took a joyride and partied for hours," Adams said, from behind bars.
MORE ON:
Celebrity Justice
Article continues below advertisement
When asked why she had not told police this information before, Cunningham said: "Because Jeremy said he was going to go into rehab, get sober and I think that is the best thing for him.
"I think that I will now do what is right; I am going to have to give them (police) a more clear headed mind now that I can remember, of course."
As RadarOnline.com revealed, Cunningham was in the vehicle with London when in the early stages of the "kidnapping" but became scared and asked to be driven home -- and the accused kidnapper complied.
When asked if there was talk about drugs inside the car, Cunningham said: "No, not in front of me... Jeremy knew that there was no way I would go for anything like that."
EXCLUSIVE VIDEO INTERVIEW: Jeremy London's Neighbor Says Actor Was Broke And Begged Him
But Cunningham admitted she overheard her on-again, off-again husband talking about drugs while he and the men were changing a flat tire.
Said Cunningham, "I did overhear him... he said something about Vicodin. I'm not exactly sure what it was, but that is what got me p*ssed and I asked to be driven home.
Article continues below advertisement
"I thought, 'Get me out of this car, something shady is going to go on', but Jeremy was like, 'Oh, no problem, no problem' and I said no, take me home, right now.
"I think they wanted me to leave, so they could go party with Jeremy or whatever they had planned."
When asked point-black if London wanted to "score" Vicodin on that night in question, Melissa responded: "I am sure he wanted to... that is what I do believe."
Cunningham's confession will fuel more speculation that the actor faked his own kidnapping, even though she said she could not definitively rule out London's version of events that he had a gun pulled on him, at some point during the night.
"I can't answer that question with a clear conscious... because I don't know what went on when I was out of the car," she said.
Though London continues to stick to his story, his claims have created a rift within his family, who have also expressed their very public doubts about the actor's tale of events.