Exclusive
EXCLUSIVE: Furious Sammi Walks Out On Jersey Shore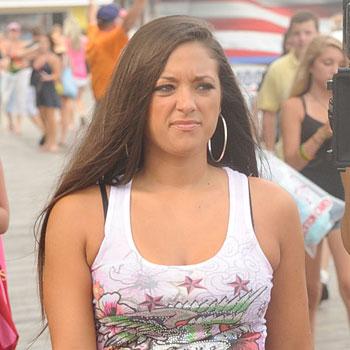 Jersey Shore's Sammi "Sweetheart" Giancola walked out on the show late last week after watching episodes that reveal Ronnie cheated on her and then slept with her, RadarOnline.com is reporting exclusively.
The cast watched all the episodes of the second season while shooting the recap last week and poor Sammi saw Ronnie cheated on her and then get in bed with her. At the time, Sammi had no idea Ronnie was cheating.
Article continues below advertisement
"Sammi was angry and hurt by everyone," one source familiar with the situation told RadarOnline.com. "She couldn't believe Ronnie did this and the girls hadn't really told her.
"She just couldn't stay living with the person who did this to her, so she moved out."
Ronnie's exploits on Season Two of MTV's mega-hit reality show took place in Miami's South Beach. In episodes that have aired recently, he has been seen making out with other women and then crawling into bed with Sammi. Now Sammi has seen what the rest of America will have to wait for and she's even more furious.
"She had to find out in front of everyone that her boyfriend was lying to her and treating her like hell," the source told RadarOnline.com.
"If he didn't want to be with her anymore why do that on national TV in front of everyone? He embarrassed her in front of 5.5 million people."
Season Three is being shot in New Jersey and has only a few weeks left before it is finished.
Will Sammi pass up a chance for Season Four?