Exclusive
EXCLUSIVE DETAILS: New Jersey Housewives Come To Blows On Reunion Show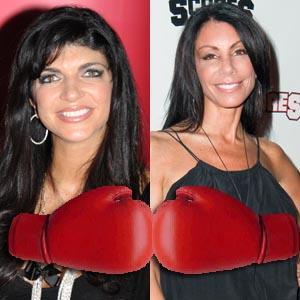 If you thought the infamous table-flipping scene between Teresa and Danielle on the Real Housewives of New Jersey was explosive -- well, you haven't seen anything yet!
RadarOnline.com has uncovered exclusive details of the Bravo reality show's upcoming two-part reunion where Teresa and Danielle go head-to-head once again, only this time it gets physical and the producers are forced to intervene. The controversial housewives are no strangers to public showdowns with last season's table-flip fiasco and this year's Brownstone chaos and during the taping of the reunion, tempers flared up once again.
Article continues below advertisement
"A fight broke out between Danielle and Teresa. It got so crazy that the producers had to get involved and break it up," a source told RadarOnline.com. The whole cast has been tight-lipped about what happened, but everyone is still talking about it amongst themselves.
"It got a little crazy," another source said. "Did anyone walk away with a black eye, no... But it definitely got to the point where I think everyone was more than holding on to their seats or being held back."