EXCLUSIVE: Deathbed Lawsuit Has 'No Standing', Says Zsa Zsa's Daughter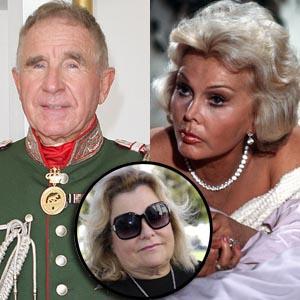 In the wake of Prince Frederic von Anhalt's exclusive interview with RadarOnline.com saying that he plans to re-ignite his 2005 lawsuit against Zsa Zsa's daughter Francesa Hilton, reps for Ms. Hilton have a few things they'd like to point out to him.
Beverly Hills attorney Ronald Richards, who represented Francesca in the original lawsuit in 2005, tells RadarOnline.com that if von Anhalt intends to re-file this case he will have a difficult time doing so.
Article continues below advertisement
"It is long past the statute of limitations," Richards says, "It is a hallow threat."
As RadarOnline.com previously reported, von Anhalt claimed Hilton stole millions from her famous mother and that she conspired with others to fraudulently take out a $3.75m loan on Zsa Zsa's home and then took $2m of it to buy herself a house. Francesca - whose father was hotel magnate Conrad Hilton - said she was wrongfully accused on all counts and countersued, claiming she suffered serious damages as a result of the false accusations.
The case was thrown out of court when Zsa Zsa refused to appear or to sign an affidavit that she indeed was a co-plaintiff in the lawsuit.
But Frederic - Zsa Zsa's ninth husband - tells RadarOnline.com he was forced to drop the lawsuit three-years-ago because of his wife's deteriorating health and says he's planning on suing Francesca again.
"She is only after whatever money she thinks her mother has, and I will fight to protect Zsa Zsa and won't let that happen," he says.
Article continues below advertisement
But Richards, Ms. Hilton's attorney, says Frederic has "no standing" to bring a lawsuit against his client, adding "only Zsa Zsa can do that."
Richards says that if  Frederic decides to make good on his re-filing claim, he'll be ready. "I will clean Frederic's clock if he re-files and get attorney's fees."
UPDATE: Zsa Zsa Gabor Leaves Hospital To Spend Final Days At Home
Edward Lozzi, a spokesperson for Ms. Hilton backs up Richards statements, branding the litigation a "phony civil lawsuit," and said that the original case was thrown out for lack of merit. Lozzi, added, "You should also know that Zsa Zsa Gabor was not aware of the suit, even though von Anhalt filed it on Zsa Zsa's behalf -- which could be considered fraud."
As RadarOnline.com has previously reported, the 93-year-old showbiz legend had been hospitalized due to complications from a broken hip, but she refused a new operation, and was released from the hospital and allowed to go home.
Hilton rep Lozzi also said Francesca is not estranged from her famous mother and has spent time a great deal of time with her at the hospital.
"Francesca Hilton has been at her mother's side this whole month while at UCLA Medical. She also has had communication with her mother everyday for the past 8 years since the horrible Rolls Royce crash on Sunset Blvd, including during the bogus trial and lawsuit from von Anhalt."