EXCLUSIVE BLOG: Jonathan 'Weatherman' Novack Has 'Mansion Withdrawal'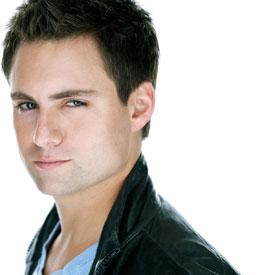 Jonathan 'The Weatherman' Novack may have been booted off ABC's Bachelor Pad last week, but he's still writing an exclusive blog for RadarOnline.com, and poor guy, he misses his pals back at the pad.
Here's his latest entry.
I'm having "Mansion Withdrawal". This sucks.
Once again, stupidity reigns supreme. We start with Wes, who complains Gia is gone. But for all you mathematicians out there who can follow the matrix of lies, deceit and people contradicting themselves, you know it was partly Wes' fault that she went home in the first place.
Article continues below advertisement
Natalie says the game is not about being the best kisser. I think she's right. However, I do think that pie eating skills are a crucial part of being a contender... I'm just saying.
So Wes is flipping out, which- thankfully- gives him plenty of material for his next song. I think it'll be called "Bachelor Pad Blues"...oh wait, I already wrote that! But seriously, no one is going to react well to his rampage about the couples. He just painted a big Texas-sized target on his back.
When the survey arrived, I could see how nervous Natalie was that it wasn't multiple choice. Tenley cried about it. Poor thing. I can only imagine how her vision is seriously suffering from the recent onslaught of tears.
Competition time rolls around, and Kovacs says he doesn't want to hurt the girls' feelings- not because it's mean, but for the sake of strategy. Nice. Krisily calls the other girls fake...then votes herself as the most shallow. Elizabeth claims she isn't shallow, but then admits that she doesn't know what the word means. And Natalie would take $20 to kiss every guy in the house, but is destroyed when she gets voted to be perpetually single. I think the Bachelor Pad is located somewhere between the Twilight Zone and the Bermuda Triangle.
Article continues below advertisement
I was very surprised when everyone voted Gwen the dumbest - she is actually a very smart girl! You can see that when she's consoling Natalie after the competition. My guess is some people thought that because she's played the game so low-key...or perhaps because she wasn't really in the click of remaining "Insiders".
After the winners are announced, Tenley picks Kiptyn for her date. There's been more build-up here than in the Eyjafjallajokull Volcano. But Kiptyn finally kisses Tenley, and I'm guessing a party was thrown in Disney Land to celebrate. Seriously though, I'm very glad they finally got to get out of the mansion together. I think they really needed the break to take their "leap of faith".
My boy Jesse B. won his competition, and decides to pick Peyton for his date. For her, the date is like "Pearl Harbor"... yet he is the one wearing the dunce cap? I'd like to hear Peyton elaborate on that one... Plus, she voted for me to go home, so she's on my "S List"....Stupid List. However, on his exit from Ali's season of Bachelorette, Jesse B. did say that he wanted a more down-home, country girl. So if Peyton can just work on her belching, she could be the one!
Article continues below advertisement
This rose ceremony was definitely a turning point. The majority of people who are left have hung out at reunion parties, become friends and hooked-up. The girls are targeting Kovacs because he's with Elizabeth. This is ironic, because remember Elizabeth saying (in a previous episode) "If you don't treat me well it could have consequences for you"?. Well, that is coming back to bite both of them. Good job, Elizabeth! This is where Dave and Natalie keeping their relationship a secret has really paid off. No one sees them as a threat.
radar_embed service=5min.com src=" http://pshared.5min.com/Scripts/PlayerSeed.js?sid=1126&width=486&height=412&playList=517707732&sequential=1&shuffle=0"