Exclusive
EXCLUSIVE BLOG: Bachelor Pad's Weatherman - 'I Took The Limo Ride Of Doom'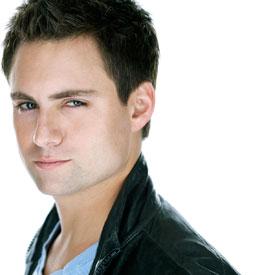 This is not a happy time for me...I wish I had a cherry pie right now.
Let me start by telling you some pet peeves of mine. Bad drivers, pizza with no sauce, and hypocrites. That said, Gia tells us that she was surprised Nikki didn't keep her word in voting off Kiptyn last week. Gia, you whole-heartedly promised to Craig that you'd give him the rose on your group date, and instead gave it to Wes because he flirted with you... and you have a boyfriend. Gia is not at the top of my "People I'm going to buy nice gifts for when I win the $250,000" list. Oh wait, I can't win anymore, can I?
Article continues below advertisement
The next competition was brilliant. 15 people kissing right after they woke up... that is a nuclear bomb of morning breath. I think it was respectable that Ashley pulled herself out of the competition for the sake of setting a good example for the kids she teaches. I didn't think Tenley would be allowed in this competition because it's not rated PG.
Wes says he doesn't want to bust anything up between Gia and her boyfriend. Did I mention I hate hypocrites? Apparently confessing his love to Gia is acceptable to Wes, but kissing her isn't? Hypocrite alert.
So, David makes his date picks. One of the girls is Natalie, who says she has a wild streak. That's like saying a corpse is calm. David's date is to Vegas on a private jet... not bad... but please, I got to body paint in a speedo. Be jealous.
I think some people have been wondering how sincere Wes is being with how he feels about Gia. Is it just strategy? Well he said it best when he told her "I need a girlfriend in the house". In my humble opinion, he's playing her like a fiddle... like a really hot fiddle wearing a bikini.
Article continues below advertisement
Relationships are hopping around and new ones are still forming. Tenley wants to be with Kiptyn, but he wants to sleep (In his defense, those beds are way more comfortable than they look). Peyton is getting lots of attention from Jesse B. I thought her other two date choices of Kiptyn and Kovacs were interesting. I thought something might be up when she didn't pick me. I didn't realize she was planning to completely change allegiances to the Insiders and turn on me.
Once again, Elizabeth is crying over Kovacs. She's gonna' need a lot more than a box of tissues to help her though - She's gonna' need a huge, padded box. Kovacs said Elizabeth is ruining everything for him, and she sadistically says there's a part of her that likes seeing him struggle. So much love in that girl, how selfish of Kovacs to keep it all to himself.
Gia said she wants Wes to be the last guy standing. She also told that to me at one point... and who knows who else. By the way, that's my guitar Wes is playing... glad I could help him romance her.
Article continues below advertisement
It's pretty ironic that Gia asked Kiptyn for help after admitting she wanted him to go home. Lesson from poker, don't reveal your hand, like she did at the beginning of this week.
That cocktail party at the rose ceremony was insane...almost as insane as Elizabeth herself. I didn't understand what Wes' reasoning was about Kovacs going home. If the girls are worried about Wes scheming, I'd think they'd have voted him off.
But none of it is important anyway. Gia dug her own grave when she didn't give Craig M. the rose last week. And my grave. And with that, I took that limo ride of doom, into the abyss... where I'll end up is anybody's guess...