Judge Denies Motion To Dismiss Quaids' Lawsuit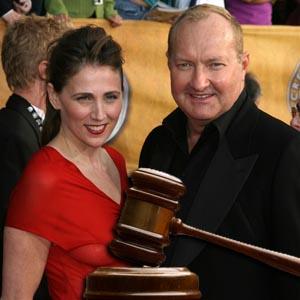 A judge has denied a motion to dismiss Randy Quaid's latest lawsuit, RadarOnline.com has learned.
Quaid and his wife Evi are currently suing their former high-powered lawyer Lloyd Braun, alleging that he engaged in gossip mongering by running stories about them on his web site.
Braun filed a motion to dismiss the case. His attorney Joel Klevens argued that the case was replete with falsehoods and inaccurate.
Article continues below advertisement
According to the Beverly Hills Courier, Superior Court Judge Kevin C. Brazille refused to dismiss the case on August 14, citing that there were too many disputes at issue in the suit and it was too early to consider throwing the case out.
Randy and Evi Quaid filed the suit against Braun on April 24. They claim they hired Braun to negotiate business deals for them. Over time, they say Braun became a close family friend, until he eventually betrayed them by posting photos and other stories about them on his entertainment web site.
"He is taking Mr. Quaid's celebrity and making money for himself," the Quaid's attorney, Michael Overling said.
In Braun's court papers, he states that he last worked for the Quaids in 1994, was never their business manager as they claim, has not seen them for 15 years and posts items on his Web sites that were previously published by wire services.
But in his sworn declaration, Quaid, 59, said the postings are hurtful to him and his wife.
Article continues below advertisement
"We found them very insulting and derogatory, depicting us as a modern-day Bonnie and Clyde and labeling me one of the ugliest actors in Hollywood,' Quaid said.
"If it had been any other Web site, I would have shrugged off the mischaracterization and chalked it up to the price of being a celebrity."
Quaid said that because the postings were made by his former attorney and a man he once considered a friend, "I felt as if I'd been punched in the gut."
Braun's attorney says the case should be dismissed to avoid bringing on another motion to dismiss down the road.
Randy And Evi Quaid's Other Legal Woes
"If the law in California was that you could have a lawsuit every time there were pictures of celebrities on a web site... where would all these magazines be?" Klevens said. "Both sides will spend thousands of dollars between now and then and the case will be just as frivolous then as it is now."