BREAKING NEWS: Gay Marriage Legal Again In California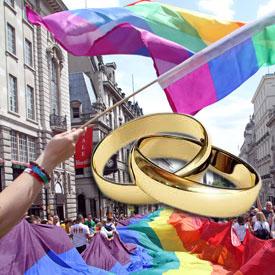 Gay marriage is once again legal in California, RadarOnline.com has learned.
U.S. District Judge Vaughn Walker announced Thursday that gays and lesbians can legally marry in California while the case continues to wind its way through the courts.
Last week, in a highly controversial decision, Walker ruled that California's Proposition 8, which banned same-sex marriage, is unconstitutional.
At the time of his decision, Walker entacted a temporary stay of his, decision so that he could weigh feedback from supporters of Prop 8. On Thursday, he lifted that stay.
Article continues below advertisement
California Gov. Arnold Schwarzenegger and Attorney General Jerry Brown both have said gay marriages should be allowed to begin on August 18th, and they had filed legal motions supporting that position. "I am pleased to see Judge Walker lift his stay and provide all Californians the liberties I believe everyone deserves," Schwarzenegger said in a statement released Thursday. "Today's ruling continues to place California at the forefront in providing freedom and equality for all people."
Opponents had argued that resuming gay marriage could cause legal problems if the Court of Appeals or the Supreme Court eventually overturns Walker's ruling.
The crusade to overturn Prop 8 attracted widespread support from some of Hollywood's biggest names including openly gay celebs such as Ellen DeGeneres, her partner Portia de Rossi, and Melissa Etheridge, but also from straightcelebs including Drew Barrymore, Brad Pitt, Steven Spielberg, and Mary K. Blige.