Band To Watch: Dawes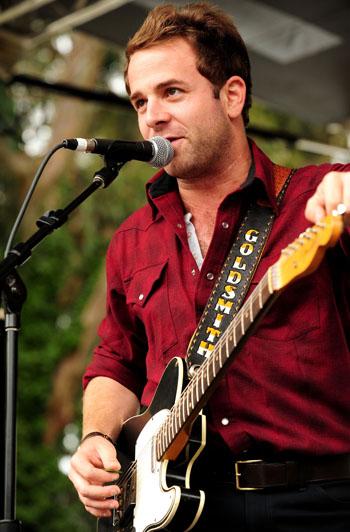 "You broke the quick-giving heart of a kid and you're now coming back to a man," the band Dawes sang during its intimate set at the Chase Freedom Lounge during this weekend's Outside Lands Music and Arts festival in San Francisco.
The theme of journeying through adulthood embodies not just the songwriter's emotions over a broken love returned, it also summarizes where this promising young band is in their career. They are old souls waiting for their current selves to catch up.
Article continues below advertisement
VIDEO: Langhorne Slim At The Chase Lounge
VIDEO: Dawes At The Chase Lounge
Acoustic sets always give listeners a naked assessment of a musician, and in Dawes' performance, what was found was pure and simple: raw, beautiful, talent.
While the young members of the band (one even had to get permission from his high school to go on tour earlier this year) have some kinks of maturation to sort out (some harmonies can be smoother and certain lyrics border on the trite), their easy style feeds a yearning for another time when lyrics meant something, when emotion was what lay between the lines, and when songs told stories.
Langhorne Slim's Knee-Slapping Outside Lands Jam Session
For the lucky audience at their Sunday show (namely concertgoers who happened to be Chase Freedom cardholders), Dawes gave them a special afternoon delight: a premiere of their new song "Coming Back To A Man" (which is the owner of the lyrics at the beginning of this post).
The three young men of Dawes take their time to get to the point, meandering through soothing strains to build something that will hopefully last- or at least stir something in your soul, whether that be the yearning adolescent or the reminiscing adult. Listening to them is like taking a ride on a lazy river that has a purpose, knowing that at the end of the slow sojourn is a soulful sea you can't wait to wash over you.
"When my time comes, Ohhhhh, oh oh oh, When my times comes, Ohhhhh, oh oh oh," Dawes sang earnestly at the end of their set.
If the fans of this Los Angeles-bred band have anything to do with it, their time will come very soon.