Sans Age Skincare Guru Focuses On Age Management Over Anti-Aging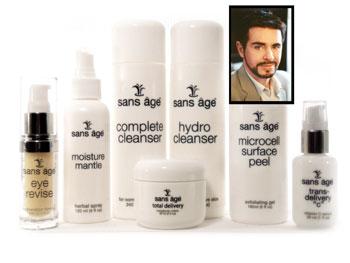 "Age doesn't matter, looking good does," proclaims scientist Danne Montague-King, creator of the newly launched skin care line, Sans Age.
When we heard about this modestly priced skincare line, which was the brainchild of the ex-GQ model with over 40 years experience in Alternative Methods of Natural Pharmacology, we had to check it out.
King was inspired to devise a line focused on age management, rather than attempting to uncover an anti-aging "miracle" product which he believes, does not exist. Each Sans Age product is infused with Betaglycan, an intensely potent ingredient from Norway, which the company maintains, stimulates the cells in the skin and raises all skin mechanism and immune systems.
Article continues below advertisement
The idea behind the simple skincare line was to create a line of clinical alternative skin care products using the highest quality ingredients sourced worldwide, for men and women of all ages, ethnicities, and skin types. Packaged in simple plastic bottles and intended to be easy to use, the skincare veteran wanted to provide the masses with the kind of products his exclusive private clients were using, at a fraction of the price of other effective lines.
How To Get Great Summer Skin On A Budget
"The products address the root cause of most of the skin problems all people face, based upon the removal of topical damage and build-up of skin by offering the essential nutrients to new cells that they recognize protecting the newer tissues and maintaining it indefinitely," explains King of his "Remove, Rebuild, Protect, and Maintain" theory.
Although he maintains that the line has attracted many celeb fans, King remains mum about his list of VIP clients, with the faith that the line will show the results intended, without outside endorsements.
Article continues below advertisement
Flawless Faces And Fierce Fashion At The CFDA Awards
RadarOnline.com put the line to the test, and we found the Sans Age products to be clean, smooth, and refreshing, leaving no residue behind. Our favorite product in the simple and easy to use collection, is the Eye Revise. Within days after we doused our entire eye area with the solution, we noticed a firmer appearance, and within a few months, the fine lines seemed to relax a little.
Sans Age is offering RadarOnline.com readers an exclusive 10% discount. Just click on the link to pick out your products and type in RADAR as the coupon code at checkout!