Best And Worst Beauty Of The Week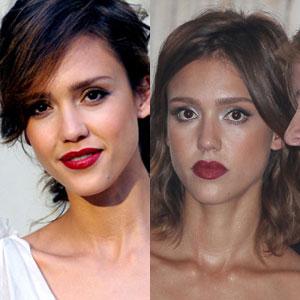 Red lipstick is one of the hardest looks to pull off. Just ask Jessica Alba, who got the look right AND wrong in the same week. In Paris for the, Haute Couture shows, the stunningly stylish actress tried out the trend first at the Chanel show, pairing her bright red pout with dark eyes and a flawless face. Later on in the week, she hit the Valentino show, going a shade too deep with shimmer all over her face, which didn't quite work to her benefit.
Article continues below advertisement
Sometimes colors just don't mix, like Lady Gaga's yellow hair paired with fake, red blood, or Kelis' awkwardly dyed fiery 'do, which definitely didn't blend well with her not-so-gracious green eye makeup.
Gwyneth Paltrow and Claire Danes both opted for the "less is more" look at Paris Fashion Week, which paid off for the fashionistas in flying non-colors, while a certain Dancing With The Stars diva, sported a plumped up pout, which didn't appear to be a gift from mother nature!
Who was it? Check out the gallery in Beauty and find out.