President Obama To Appear On The View Thursday; Barbara Walters Makes Comeback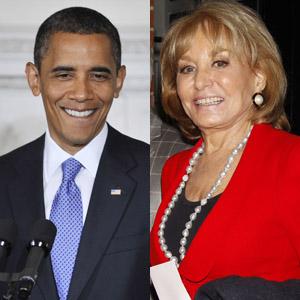 President Barack Obama is going into the lion's den - no, not Congress, The View!
Producers of the ABC morning chat show announced Monday that the ladies of The View will tape an interview with the President on Wednesday and air it on Thursday, can report.
View creator and co-host Barbara Walters - who's been on an extended break after undergoing from heart surgery - will make a special appearance and join in the interview.
Article continues below advertisement
Before Heart Surgery Barbara Walters Tweets: "I Will Be Fine"
The panel will talk to Mr. Obama the economy, jobs, the Gulf Coast oil disaster, and how Obama's family is adjusting to life in the White House, according to the producers.
Obama last appeared on The View in March 2008 before he was elected President, and his wife, Michelle, was a guest co-host three months later.
As we mentioned, Thurday's episode will mark View creator and host Barbara Walters' first appearance on the show since she underwent heart valve replacement surgery in May.
Walters, 80, announced that she would return to the show full-time in September.
EXCLUSIVE VIDEO: First Look At Barbara Walters After Heart Surgery; Feels "Great"
"We are so pleased and honored that President Obama will be a guest on The View, Walters said in a statement. "This shows that both the President and First Lady feel that our show is an influential and important source of information and news."
Mr. Obama's appearance on The View makes his become the first sitting U.S. President to appear on a daytime talk show.