PHOTOS: Russell Brand - The New Batman?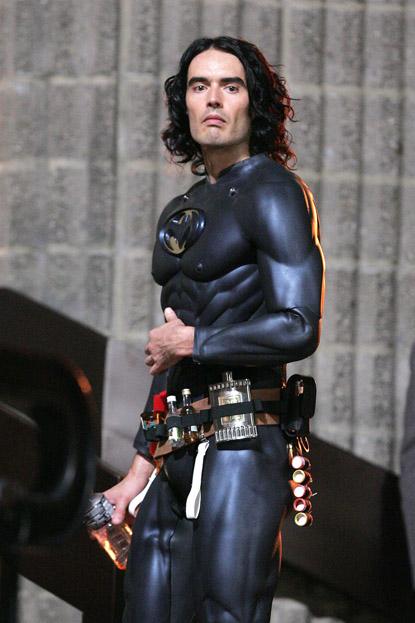 Is Russell Brand taking over for Christian Bale as the next Batman?
Nah... the British funnyman merely dressed up as the Dark Knight for his role in the Warner Bros. remake of the 1981 Dudley Moore screwball comedy, Arthur, and RadarOnline.com has new photos from the film's shoot.
In one scene shot Sunday on the streets of New York, Brand - complete with an 'alcohol utility belt', busts crooks out of jail with the help of his sidekick Luis Guzman, dressed as Robin.
Article continues below advertisement
The original Arthur starred the late Dudley Moore as a lovable, alcoholic ladies' man who must marry a stuck-up wealthy woman in order to keep his family's vast fortune. The original co-starred Liza Minnelli, as the flaky working-class waitress he ends up falling in love with.
Oscar winner Helen Mirren stars opposite Brand, taking on John Gielgud's iconic part as Arthur's trusted valet. Jennifer Garner, Nick Nolte, and Greta Gerwig co-star.