PHOTOS: Mel Gibson's Wife Robyn - Out In Malibu Amid Mel's Meltdown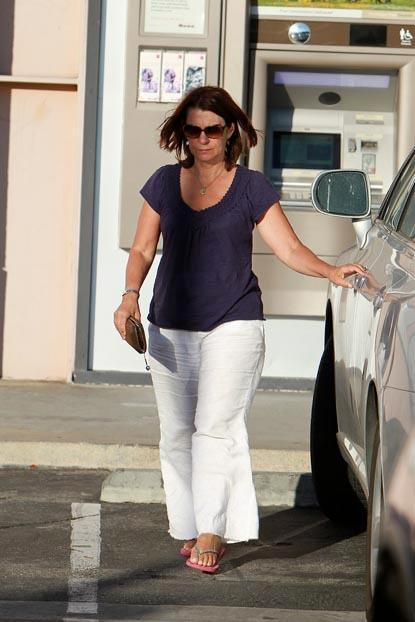 As Mel Gibson's life implodes over his bombshell X-rated taped rants with estranged Russian lover Oksana Grigorieva, his wife of 28 years Robyn Moore Gibson is calmly going about her business, RadarOnline.com can reveal.
The mother of seven of the superstar's eight children was spotted Wednesday out with her grandson at a bank in Malibu, California, not far away from where she has a $10 million mansion.
Article continues below advertisement
Robyn, a former nurse, is reportedly seeking spousal support and joint custody of their child Tom, the only minor of their seven kids together.
EXCLUSIVE: Mel Gibson Pulled Gun On Oksana When She Tried To Leave His House
His notoriously private wife has remained tight-lipped about their relationship. Gibson, 54, told Jay Leno in 2009 that the marriage had been over for a while, "My wife and I, our marriage ended three years ago and we've been separated ever since then."
Article continues below advertisement
She will no doubt be shocked about the explosives tapes that have been released by RadarOnline.com which show how volatile his relationship with Grigorieva has become.
EXCLUSIVE AUDIO: Out Of Control Mel Gibson Says He'll Burn Down House After Demanding Sex
In our latest audio tape obtained and released exclusively by RadarOnline.com, Gibson can be heard screaming, snarling and panting as he screams obscenties at Oksana, the mother of his eight-month-old daughter Oksana.
"B*tch, c*nt, whore, gold digger," an out of control Mel yells at her.
And in this, the 5th tape released by RadarOnline.com, Gibson comes unhinged and shockingly claims that he is broke. The star has made tens of millions of dollars during his Hollywood career, but yells at Oksana, "I don't have any f*cking money!"
With eight children and an ex-wife who got a considerable divorce settlement, Gibson blames Oksana for driving him into dire financial straights, all while panting and seeming to be on the verge of hyperventilating.
Article continues below advertisement
"F*ckin' user! You f*ckin' used me! I will never forgive you!" he yells and then audibly pants for several seconds during his crazed tirade.
At one point, Oksana fights back and says, "You are very mean," and this sends Mel over the edge again. He launches into a boiling mad diatribe, saying:
"Yeah, you know what mean is now, don't you? So don't call me mean when I'm nice to you. Because I'd like to show you what mean really is. B*tch, c*nt, wh*re, gold digger! All true! You f*cking proved it to me! If you're ever interested in proving otherwise, let me know. If you don't care, I know you know what you are too.
"Look at yourself. And look what you've done. Look what you've f*cking done!"
Referring to her son with actor Timothy Dalton, Gibson says, "Look at your son. He's a f*cking mess. You f*cking excuse for a mother. You're a f*cking bitch!"