PHOTOS: Jesse James' New Life -- Inside His $2 Million Texas Mansion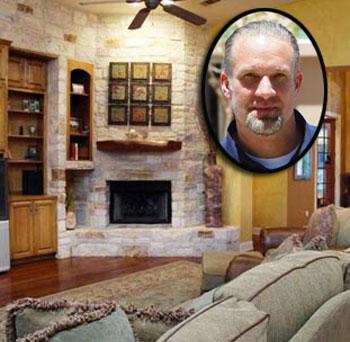 Jesse James will find out on Friday if a custody judge will green-light his proposed move to Texas with his daughter Sunny , and RadarOnline.com has obtained photographs of the $2 million luxury home that awaits them.
James – who is currently battling with ex-wife Janine Lindemulder for custody of the six-year-old in California – has already splashed-out on the five bedrooms home which sits on 8 acres of land.
Article continues below advertisement
The mansion in Austin is only 15 miles away from where his ex-wife Sandra Bullock also owns a house, while his second wife Karla (with whom he has two children Chandler and Jesse Jr.) has bought a new property just a mile away too.
During Wednesday's custody hearing, James told Orange County Court that he had bought the secluded hillside property so that he could protect his family from the paparazzi who have stalked him since his marriage to Bullock imploded.
He told the court: "It is a very private estate - my current place in Sunset Beach is too small for my kids and our dogs.
"My ex-wife Karla has bought another place about 1 mile away and we have enrolled our three kids in the nearby Waldorf School.
"Our new place is about 15 miles away from where Sandy has a property as the Crowe flies - but about 30 miles by actual road.
"Sandy and I have never had any problems in Austin it is not such a media hotbed as Los Angeles or Orange County."
Article continues below advertisement
Jesse James Speaks Out Against Ex-Wife In Custody War
The motor bike mogul's plush new pad boasts a swimming pool, landscape gardens, indoor cinema and a workshop.
It is also close to his Austin Speed Shop business which he intends to concentrate on when he re-locates to Texas.
Despite the fact that he is now divorced from Bullock, after his serial cheating was exposed, he wants her to co-parent his extended family with the Oscar winner and his first wife Karla.
During their bitter custody battle, former porn star Lindemulder vowed to move to Texas if Commissioner Thomas Schulte grants James permission to take Sunny out of California.
She protested in court that he was trying to replace her with Sandra Bullock as Sunny's mom and that she could not compete with 'all there fabulous mansions and wealth.'
The former porn star – who plans to attend Clown college – told the court that she would 'live in a tent to be beside Sunny' if James was allowed to re-locate.
Court Commissioner Schulte assured Lindemulder that his final decision would not purely hinge on 'all the stuff' that Sunny could be offered by her wealthy father.
James is contesting that Sunny would be better off with him and his family because they can offer her more stability than her biological mom.
A decision is expected on Friday.