PHOTOS: How Angelina Jolie Got Her Style -- Bad Girl Gone Good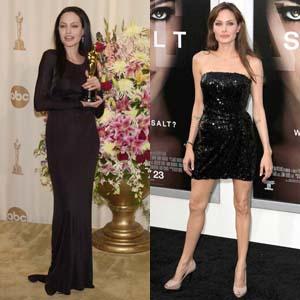 As Angelina Jolie prepares to shake up the standard spy thriller in Salt, which opens Friday, RadarOnline.com investigates the mysterious CIA operative and her real-life style evolution.
Born into showbiz, Jolie began walking down red carpets in frilly glam gowns at the age of 10, so it is no surprise that the extraordinary bombshell rose to fame effortlessly.
But she did manage to shock in other ways!
Article continues below advertisement
From sharing smooches with her brother and wearing her husband's blood in a vial around her neck, to changing the world as a Goodwill Ambassador and starting a family with the hottest leading man in Hollywood, Angelina's life has transformed before our eyes.
So has her style.
Although Angelina claims she was an outcast in high school because of her goth look, Hollywood took to her immediately.
After acting in a few music videos, she landed a part in the 1995 cult hit Hackers, taking to her costar Jonny Lee Miller, who she went on to marry almost immediately.
A few roles later, Angie was nominated for several awards in the biographical film George Wallace, and the world suddenly noticed that she was much more than a pretty face.
Though her marriage was unsuccessful, her fame only intensified.
Angie accepted her second Golden Globe in 1999 for HBO's Gia in a Greek goddess-worthy, off-the-shoulder white gown, a look, which was a bit out of character for the eccentric star.
Article continues below advertisement
If that look was day, a few years later when she took the stage of the Oscars for her Best Supporting Actress award for Girl, Interrupted, she was definitely midnight!
Back to goth in a sleeved jet black Versace gown, Angie was the most talked about person of the evening.
The kiss she shared with her beloved brother James Haven didn't help much either!
Spending the next few years shocking the world by wearing skintight leather pants to premieres, Dolce & Gabbana suits to awards shows and her much older husband's (Billy Bob Thorton) blood around her neck on a vial, Angelina seemed to tire of her "rebellious" streak and started searching for deeper meaning in life.
Angelina began her humanitarian work in 2001, adopting her first child, Maddox in 2002.
Divorcing Billy Bob and settling into motherhood, Angie's style drastically changed.
Transforming from goth to glam, she began embracing her feminine side in more sophisticated fashion, while still managing to remain one of the sexiest women alive.
In 2005, Angie met Brad, and the rest is Hollywood history.
Although she still pulls out the leather every now and then (her Michael Kors leather strapless from the Inglourious Basterds premiere was perhaps one of the most replicated looks of the year!) her usual red carpet look is considerably traditional compared to her peers.
Opting for designers such as Elie Saab, Max Azria, Versace and Armani, Angelina is always the star of every red carpet she graces.
What was the Salt stars best look? Check out the gallery in Style and let us know what you think!