Paris Hilton Goes Topless In Italy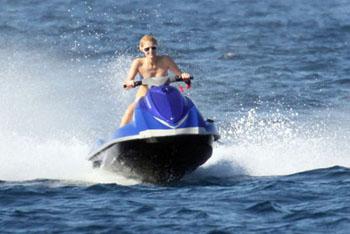 Paris Hilton isn't letting a little thing like being questioned for pot possession get in the way of enjoying her European vacation. RadarOnline.com has all the photos of the heiress jet-skiing, and sunbathing topless and hanging with her friends on a yacht.
Paris and pals were off the coast of the Italian island of Sardinia, and keeping her top on just didn't seem to be a priority.
Friday, the respected Agence France-Press reported that Hilton had been stopped, questioned and released by police at the airport in Corsica when they discovered less than a gram of marijuana in her possession.
Article continues below advertisement
Paris Hilton Busted For Pot Possession
Paris later Tweeted that she wished people would stop "making up rumors" about her but she didn't specifically say which part of the report she was disputing.