New York City Gets Queen For A Day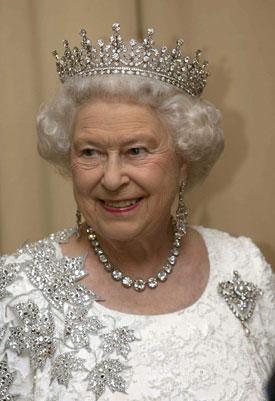 England's Queen Elizabeth II returns to New York after a 30-year absence, and will address the United Nations for the first time in more than 50 years Tuesday, and RadarOnline.com has the scoop for you.
The queen's only speech given to the UN General Assembly came in 1957, when she was just 31. She is also slated to leave a memorial wreath at Ground Zero, the site of the September 11, 2001 terrorist attacks.
Article continues below advertisement
On Monday, the queen, now 84, turned heads at a banquet in Toronto, Canada, as she wore a dress decorated with Swarovski crystals to form a Maple leaf. She last wore the elegant gown to a state dinner in Trinidad and Tobago in the fall of 2009.
PHOTO: Prince Harry Makes Sneaky Reunion with Ex
The queen reigns over not only England, but is also the head of state for Antigua and Barbuda, Australia, the Bahamas, Barbados, Belize, Canada, Grenada, Jamaica, New Zealand, Papua New Guinea, Saint Kitts and Nevis, Saint Lucia, Saint Vincent and the Grenadines, the Solomon Islands and Tuvalu, as well.