NEW PHOTOS: Chelsea Clinton's Wedding Site Readied For Big Day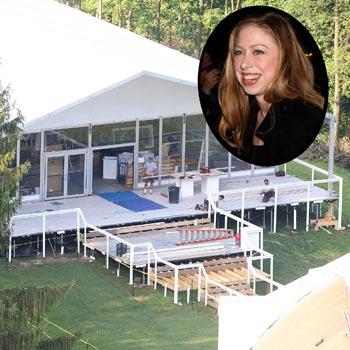 Final preparations are under way for the wedding of Chelsea Clinton and Marc Mezvisky and Radaronline.com has the latest photos. The former first daughter and her investment banker fiancé are set to be married this Saturday at New York's uber-posh Astor Estate after a five-year courtship.
In preparation for the star-studded reception, workers on the site have built a huge white marquee as well as a gazebo where the couple reportedly will tie the knot. As an added security measure, marked police vehicles are parked throughout the property.
Article continues below advertisement
As Radaronline.com previously reported, former President Bill Clinton and Secretary of State Hillary Clinton will be spending about $6,000 a head for the 500 estimated guests. The money is going toward everything from five-star cuisine to custom invitations (estimated at $150 each) to air-conditioned tents to tight security, as experts say that even the nearby airspace will be monitored with the high-profile guest list.