Movie Review: Charlie St. Cloud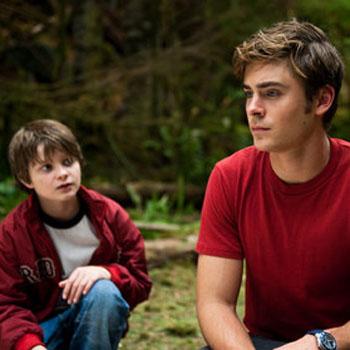 Meet the new Zac Efron: handsome, chiseled and teetering with emotion, the former Disney darling is breaking down and stripping off his shirt before you can say, "go wildcats!" As the hottie in Charlie St. Cloud, the young heartthrob isn't afraid to cry on camera. Or sob, or throw things at the wall, or drink whiskey (!), or tear up again until the rest of us are crying too. Despite his pain, Charlie is all soft skin and smooth contours: he's pretty, he's deep, and yes, he's ready to win you over no matter how cheesy his lines might be.
Article continues below advertisement
Movie Review : Dinner for Schmucks
Admittedly, Charlie has a lot to be sad about. He loses his adorable brother Sam (Charlie Tahan) in a car crash and gives up his own dreams of college, sailing and independence to stay close to the little guy's grave. But Sam isn't the only one who dies in the crash: Charlie flatlines, too -- but in a miraculous twist, is revived (don't ask -- just believe). The experience leaves him with a unusual connection to the dead, plus a rep as the local nut-job.
As the years go by, Charlie's pretty content in his small coastal town, where he still plays catch with Sammy every day at sunset (see above re: his unusual skill), and ignores the normal temptations of young adult life, from friends to women and mostly, fun. But when pretty sailor Tess (Amanda Crew) glides into the local harbor, she rocks Charlie's insular little world -- and sparks an unexpected twist that hinges on Charlie's unique talent. Their romance is indeed sweet (complete with mushy music, in case you aren't sure), but the mix of shameless melodrama with supernatural skills is a lot to swallow.
Luckily, Efron is so buff that the heavy-handed cues (ready, set, sob!) are smoothed out with his increasing range as an actor and role as consistent eye candy for the tween set. Crew is quite a looker herself, but Efron's waxed perfection steals every scene -- especially the more ludicrous moments, such as when he dives into ice-cold water in nothing but trousers and a funky swimming harness. But who needs a shirt with abs that good? Based on Ben Sherwood's book, The Death and Life of Charlie St. Cloud, the film is pure feel-good fare. Dipped in salty tears and sugary dialogue, big-screen adaptation is perfect for a little forced inspiration, and a really good cry.