INSIDE STORY: Chelsea Clinton's Whirlwind Wedding Weekend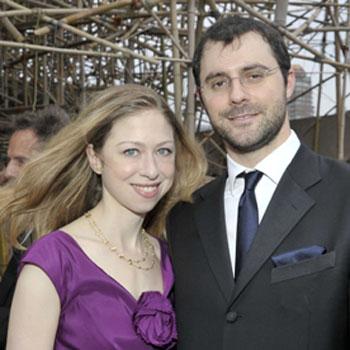 The society wedding of the year between former First Daughter Chelsea Clinton and Marc Mezvinsky is just hours away!
The extravagant event is set to take place in Rhinebeck, New York on Saturday evening and we have new details on the $3 million nuptials.
VIDEO: Chelsea Clinton's Gala Wedding – The Latest Details
Two helicopter landing pads have been installed at Astor Courts, the exclusive Hudson River-front estate where the wedding will take place and the mansion where the Clintons will be staying, to fly in the most high-profile guests.
Article continues below advertisement
The rest of the party will have less swanky transportation, arriving by bus after being picked up from local inns, reports Us Weekly.
Guests began to trickle into the Hudson Valley town ahead of Friday night's rehearsal dinner, which took place in a barn at Grasmere.
Father-of-the-bride Bill Clinton made his first public appearance in town Friday afternoon at Gigi's Hudson Valley -- one of the local caterers to provide food at the rehearsal dinner -- and secret service agents were spotted checking out the local restaurant Thursday night.
Out-of-town guests were treated to a small box of chocolates from Samuel's and wine from Clinton Vineyards, a Seyval Blanc appropriately called Tribute.
Movers-and-shakers from Hollywood to the Hamptons -- including Oprah Winfrey, Barbra Streisand, and Tom Hanks -- are expected to be on hand for the affair, RadarOnline.com reported on Friday. Not invited: President Barack Obama.
Chelsea, 30, is marrying her childhood pal, Goldman Sachs investment banker Mezvinsky, 32, after five years together. Mezvinsky also has a political pedigree, as his mother Marjorie and father Edward have both served in Congress.