VIDEO: Chelsea Clinton's Gala Wedding - The Latest Details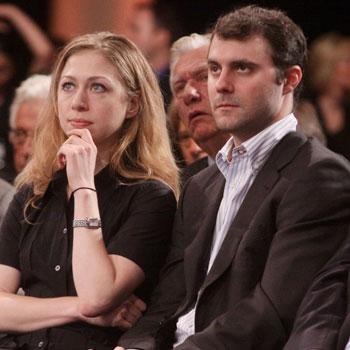 We're just a day away from Chelsea Clinton, who we saw grow up in The White House, saying "I do" to Marc Mezvinsky, and RadarOnline.com has all the up-to-the-minute details on the much-ballyhooed wedding for you.
Watch the clip here on RadarOnline.com
The affair -- rumored to be happening at New York's mansion Astor Estate on Saturday -- is expected to cost Secretary of State Hillary Clinton and former President Bill Clinton anywhere from $3 million to $5 million.
Article continues below advertisement
Included in that big tab: an elaborate fireworks over the Hudson River; more than $250,000 worth of jewelry to be worn by the bride; anywhere from $250,000 to $500,000 for flowers that will decorate the pristine property; $15,000 for upscale portable toilets; and $200,000 worth of extra security for the high-profile, 500-person guest list.
"There is a lot of security to protect the protectees, the former president and the Secretary of State, so there will be requirements to follow," Anita McBride, who worked under former President George W. Bush, told ABC News of the elaborate security measures. "It takes some real coordination."
Movers-and-shakers from Hollywood to the Hamptons -- including Oprah Winfrey, Barbara Streisand, and Tom Hanks -- are expected to be on hand for the affair. Not invited: President Barack Obama, the same guy who, in 2008, dashed Hillary's Oval Office hopes quicker than you can say "Change."
Chelsea, 30, is marrying her childhood pal, Goldman Sachs investment banker Mezvinsky, 32, after five years together. Mezvinsky also has a political pedigree, as his mother Marjorie and father Edward have both served in Congress.