Happy Birthday Knox and Vivienne Jolie-Pitt!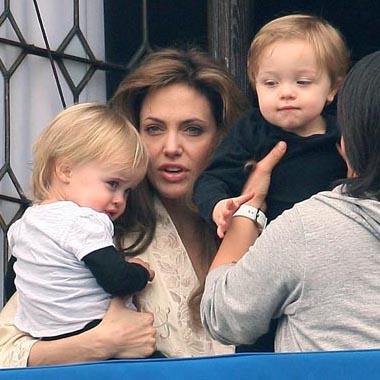 Happy birthday to Knox and Vivienne Jolie-Pitt, who turned two on Monday, July 12! The twins are the lucky offspring of the stunning Angelina Jolie and handsome but scruffy heartthrob Brad Pitt.
Angelina gave birth to the dynamic duo two years ago in Nice, France. The tots are the younger siblings to Maddox, 9, Pax, 6, Zahara, 5, and Shiloh, who just celebrated her 4th birthday.
The twins were rarely spotted when they were infants, but recently their parents have taken them out in the public eye more often, and they've always been world travelers. While Angelina was filming in Venice, Italy, they were often snapped looking adorable while out with mommy and daddy.
Article continues below advertisement
"Knox and Viv are classic boy and girl. She's really female. And he's really a little dude," Angelina said about the twins recently to Vanity Fair.
Mom Angelina spoke to Reuters, while promoting her new movie Salt on July 10, about the twin's older sister Shiloh's choice to wear boy's clothes. "I think she (Shiloh) is fascinating, the choices she is making. And I would never be the kind of parent to force somebody to be something they are not. I think that is just bad parenting. Children should be allowed to express them selves in whatever way they wish without anybody judging them because it is an important part of their growth."