EXCLUSIVE: Where The Clintons Are Staying For Chelsea's Wedding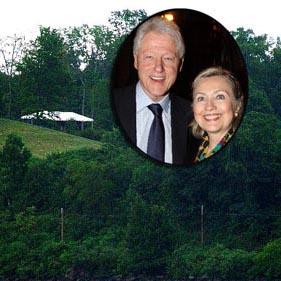 Only eight days before Chelsea Clinton ties the knot with her long-time boyfriend, RadarOnline.com has learned that her famous parents and only daughter will be staying at a multi-million dollar estate, Glenburn, in Rhinebeck, New York, Minutes away from the lavish Astor Estate where the two will tie the knot.
The Hudson Valley News will report that former President Bill Clinton, his wife Secretary of State Hillary Clinton,and Chelsea herself will be staying at the posh estate -- known as Glenburn -- owned by Eric and Andrea Colombel. Andrea Colombel is the daughter of huge Clinton supporter and billionaire George Soros.
Article continues below advertisement
The property, which was recently listed at $12 million on the real estate market, is located 90 miles north of New York City, and about 70 miles away from Clinton family home in Chappaqua.
Chelsea, 29, is slated to marry her childhood pal, investment banker Marc Mezvinsky, 31, on Saturday, July 31 after a five-year courtship.
EXCLUSIVE: President Obama, Oprah On Chelsea Clinton's Wedding Guest List
Mezvinsky also comes from a political family, as his mother Marjorie Margolies-Mezvinsky and father Edward M. Mezvinsky have both served in Congress.