EXCLUSIVE: Jeremy London To Seek TRO Thursday To Keep Family Silent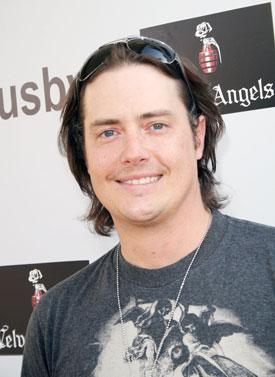 UPDATE: The judge has just denied Jeremy London's request for a TRO.
An attorney for Mallrats star Jeremy London will go to court Thursday to officially seek a temporarily restraining order - or TRO - against the actor's family to keep them from further talking to the media about his recent troubles, RadarOnline.com is exclusively reporting.
The hearing is scheduled to begin at 8:30 a.m. local time in Los Angeles Superior Court.
Article continues below advertisement
Last week, RadarOnline.com exclusively reported that London, 37, intended to sue his mom, Debbie Nielsen, twin brother, Jason, and Jason's girlfriend, Sofia Karstens.
COURT DOCUMENTS: Jeremy London Suing His Own Mother!
Jeremy's attorney, Catherine Lombardo, filed an initial complaint with the court on Wednesday alleging that Nielsen, Jason London and Karstens have all "wrongfully and maliciously" given unauthorized interviews with the media that included "false statements" about Jeremy that are damaging both his personal reputation and entertainment career.
In addition to the TRO, the cash-strapped actor - who once appeared on the hit TV shows Party Of Five and 7th Heaven - is also seeking punitive damages plus the payment of his court and attorney fees.
Thursday, a judge will officially hear the complaint and decide on whether to grant the TRO.
EXCLUSIVE VIDEO INTERVIEW: Jeremy London's Neighbor Says Actor Broke; Begged Him To Wash Cars For Money
Lombardi, previously sent a 'cease and desist' letter on June 18th asking his family to restrain from giving interviews to the press about his alleged kidnapping in Palm Springs, California, and his alcohol and drug addictions, without his publicist's permission.
Article continues below advertisement
Debbie and Jason have publicly expressed their worries about Jeremy and his slammed wayward lifestyle.
"We are very concerned for him, this is his family's cry for help," his twin brother Jason told E! Online . "He's lost. You're 40, grow up. Learn from the mistakes you've made," his twin continued.
Jeremy's mom also made a heartfelt plea: "I don't want him to be another statistic," said Debbie, whose daughter Dedra, died in a car accident at 16. "I don't want to bury another child."
EXCLUSIVE VIDEO: Losing "Love Of His Life" Caused Jeremy London To Relapse, Friend Says
Debbie Nielsen and Jason London told RadarOnline.com in an exclusive statement on June 25th that they: "still love Jeremy very much and want him to get all the help that he needs. This is all so sad for all of us."
The dark details of London's personal life have unfolded since RadorOnline.com first broke the story of the June 10 incident when he claimed to have been robbed, kidnapped and forced to smoke drugs by Brandon Adams, who is currently awaiting trial for the alleged crime.