Exclusive
EXCLUSIVE INTERVIEW: Jersey Shore's Angelina Tells Publicist -- "Sue Me"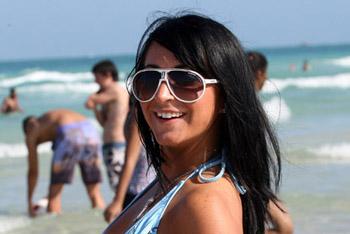 Article continues below advertisement
"She parties all the time, she says she has family problems, then bbms (blackberry messages) everyone that she is drunk at the Jersey Shore," said Stowe.
But Angelina tells a very different story.
"I met her through a friend but she was never my publicist, she claims I owe her $2,500," revealed Pivarnick.
EXCLUSIVE: Designer to Jersey Shore's Angelina: "I Want My Dresses Back!"
"When I texted her asking, 'What did you do for me?' she responded, 'I kept your MTV schedule for you.' I texted back, 'My grandmother could have done that'."
Angelina recalls when she first met Stowe, "She told me I needed to be a diva-girl and act sly and a bitch. I asked around about her and nobody even knew who she was!"
EXCLUSIVE: Angelina No Longer Living With Jersey Shore Cast Mates
Pivarnick isn't worried about Stowe's angry accusations and threats to sue. "Let her try to prove anything. She never set up one red carpet event or anything for me."
"I've already contacted a lawyer, maybe she thinks she can sue me but she's not going to get anything," pledged Pivarnick