Exclusive
EXCLUSIVE INTERVIEW: Custody Verdict Is "In The Hands Of God Now," Says Jesse James' Ex-Wife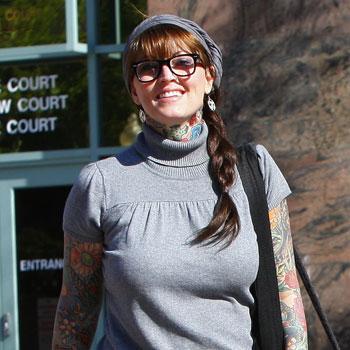 Anxiously waiting for a court to decide the fate of her daughter to Jesse James, Janine Lindemulder told RadarOnline.com in an exclusive interview on Friday: "It's up to God what happens to Sunny."
The ex-porn star and her former husband are set for D-Day in their bitter custody battle for the six-year old.
After a week of dramatic evidence where both sides accused each other of wrong doings, Commissioner Thomas Schulte is set to make a decision early next week on whether James can take his daughter to live in Texas, where he is moving in an effort to remain near Sandra Bullock.
Article continues below advertisement
An emotional Lindemulder told RadarOnline.com: "I've done all that I can and will just have to wait to see what happens.
"There's a lot that the public doesn't know about and it's really in the hands of God now.
"I've tried to keep it together but obviously it's a very emotional time for me right now."
Jesse James Speaks Out Against Ex-Wife In Custody War
The closing arguments will be heard on Friday and a ruling is expected on Tuesday. It seems likely that the Commissioner will green light James' move to Austin, Texas, where he has already bought a home and enrolled his three kids in school.
Lindemulder has vowed to follow him even though she is broke and it is expected that Commissioner Schulte will make provisions for her to see her daughter however the scenario unfolds.